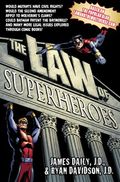 by Dennis Crouch
The book that we've all been waiting for is finally out: The Law of Superheroes
.  I am serious here — at least that I have been waiting for this book ever since I discussed the project with co-author James Dailey a few years ago when he visited the Mizzou campus.  Daily and Ryan Davidson have turned their popular blog (lawandthemultiverse.com) into book published by Gotham Books, a division of Penguin. Daily is a patent attorney and the book answers many IP questions that may have vexed comic book readers:
Does Batman's use of Wayne Enterprises' advanced technologies to stop crimes (at night) negate patentability?
Does Spiderman infringe any genetic engineering patents?
In our universe, the Beatles broke up and John Lennon died. However, there are other (far better) universes where that did not happen. What copyright laws would apply when someone wants distribute copies of the Beatles' 40th Anniversary Album that was brought back from that alternate universe?
One of the book's thirteen chapters focuses on intellectual property. But the book as a whole covers a host of topics ranging from Constitutional law to immigration; from criminal procedure to the legal treatment of non-human intelligence.
Great work by Daily and Davidson! I am already looking for Volume II. Law students beware: the book offers a host of original hypothetical questions that would be readily used on final examinations.
Amazon's current price is $14.60
.