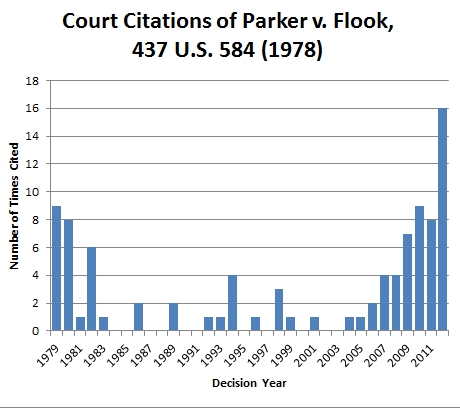 The Supreme Court's much maligned 1978 decision in Parker v. Flook, 437 U.S. 584 (1978) is seeing something of a revival following the Federal Circuit's substantial rejection of the case under Judge Rich. The chart above shows the citation count for the case over the past 30 years. Part of the revival is based upon revived interest in the subject matter eligibility doctrine in general. However, the Supreme Court in Bilski v. Kappos (2010) and Mayo v. Prometheus (2012) both treat the case favorably. The most controversial aspect of the Flook decision is its language regarding the "inventive concept" rather than merely focusing attention on a patent claim "as a whole." In that case, the court wrote:
Even though a phenomenon of nature or mathematical formula may be well known, an inventive application of the principle may be patented. Conversely, the discovery of such a phenomenon cannot support a patent unless there is some other inventive concept in its application.
In analyzing merits briefs filed at the Federal Circuit, I found that the case was cited in 13 briefs from 1996-2006. In the past six years (2007-2012) the case has been cited by more than 130 briefs.