By Dennis Crouch
I wanted to look a bit deeper into the impact of the recent decision in Exelixis, Inc. v. Kappos, Case No. 1:12cv96, 2012 U.S. Dist. LEXIS 157762 (E.D. Va. November 1, 2012).
The case stems from the patent term adjustment (PTA) provisions codified in 35 U.S.C. § 154(b). It is difficult to argue that 1952 Patent Act was well drafted. However, the rest of the Patent Act reads like a well edited prose as compared with Section 154(b). That section was added as part of the URAA (1994) and substantially amended with the AIPA (1999). The portion of Section 154(b) at issue in Exelixis is the three-year prosecution timeline guarantee found in 35 U.S.C. § 154(b)(1)(B). The provision generally (but with a few exceptions) provides one day of extra patent term for each day of pre-issuance prosecution pendency beyond the first three years, regardless of the cause of the extended pendency. One of the exceptions involve an applicant's filing of a request for continued examination (RCE). Under the prior PTO statutory interpretation, the filing of an RCE would cut-short any further 154(b)(1)(B) term adjustments. Exelixis rejects the PTO's analysis and holds instead that an RCE filing after the three-year date does not stop the PTA from running. The difference between these two calculations is shown in the generic application timeline shown below.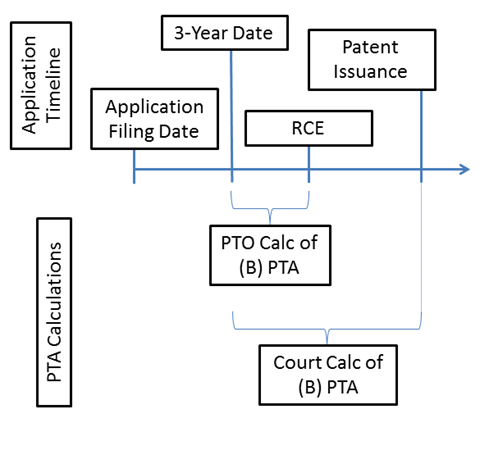 In its decision, the Exelixis court held that the change in interpretation mandated by the district court only impacts patents where a RCE filing occurred after the three-year mark. To get some quantitative sense of the change, I pulled up the file histories of the 5,200 utility patents issued in the first week of November 2012 (November 6, 2012).
Results: About 15% of patents in the group include a first-filed RCE following the three-year mark. Each of these patents would be eligible for at least some added patent term due to the Exelixis decision. As the table below shows, these patents already have an average PTA of 887 days. By my calculation, the Exelixis methodology would add an additional 452 days of patent term. As you might imagine, there is considerable variance amongst the affected patents.
| | | |
| --- | --- | --- |
| Average PTA | Patents with first-RCE filed after three years of pendency | All Patents |
| Before Exelixis | 887 days | 450 days |
| Estimated After Exelixis | 1,339 days | 516 days |
This change appears to be slightly less in overall magnitude, but additive to, the Federal Circuit's Wyeth v. Kappos decision from 2010. Importantly, in that case, the PTO did not begin using the new PTA calculation or offer guidance to patent applicants on the issue until after the Federal Circuit had confirmed the lower court decision.