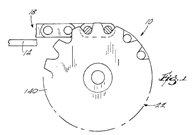 By Dennis Crouch
Joy Mining Machinery v. Cincinnati Mine Machinery (Fed. Cir. 2012) (nonprecedential)
In what may well be its final decision on the best mode requirement of 35 U.S.C. §112(1), the Federal Circuit has reversed a district court judgment invalidating claim 2 of Joy MM's asserted Patent No. 6,662,932. However, the decision will provide additional legal foundation for patent applicants to keep important or sensitive information regarding their invention as a trade secret rather than including that information as part of the patent disclosure.
Here, the court confirms that the best mode requirement does not require actual disclosure of the best mode, but rather only adequate disclosure to enable one of skill in the art to practice the best mode without undue experimentation. Citing See Ajinomoto Co. v. Int'l Trade Comm'n, 597 F.3d 1267 (Fed. Cir. 2010); and Young Dental Mfg. Co. v. Q3 Special Prods., Inc., 112 F.3d 1137 (Fed. Cir. 1997).
In this case, the inventors had apparently decided that the best mechanism for its claimed drive-pin retainer was a press-fitting. However, the applicant failed to identify that particular mechanism in the specification and instead suggested welding. At the time, a press-fitting mechanism was already known to those of skill in the art as one way to construct a drive-pin retainer. As such, the federal circuit found that the failure to disclose that best mode did not qualify as an actionable concealment.
Accordingly, CMM cannot point to any clear and convincing evidence upon which a reasonable jury could rely to find that the omission of press-fitting from the written description of the '932 patent "concealed" its use as a drive pin retaining means from the public.
It is unclear to this author how "concealment" can be read into the statute. Rather, Section 112 affirmatively requires that the applicant "set forth the best mode" not simply avoid concealment. The America Invents Act of 2011 (AIA) substantially alters best mode jurisprudence. Although the statutory change leaves the requirement in place without amendment, the new law prevents any post grant action (either in court or the PTO) that would challenge a patent as invalid or unenforceable based upon failure to disclose the best mode.
In reality, this decision will not have much impact beyond putting another hole in a doctrine whose obituary has already been read.
Notes: