by Dennis Crouch
To create the chart below, I merged the my database of all utility patents issued since January 2005 with my database of all patent applications published since January 2005.  I then looked to see how many of the published applications have issued as patents and grouped those according to the application filing date. This chart necessarily excludes information related to unpublished applications.  
From the chart, about 10% of the applications filed 18-months ago have already issued as patents, and about 50% of the applications filed four years ago (January 2009) have issued. The chart is intended to provide some sense of how long it might take to obtain patent protection.  With the advent of fee-based accelerated examination, an applicant can largely direct its patent timing.  The question for quickly issued patents is whether that speed came at the sacrifice of adequate scope.   
The second chart shows two different series: One for "original" non-provisional applications and another for applications that claim priority to a prior US non-provisional application (i.e., continuation applications). As is apparent from that chart, the continuation applications tend to issue much more quickly.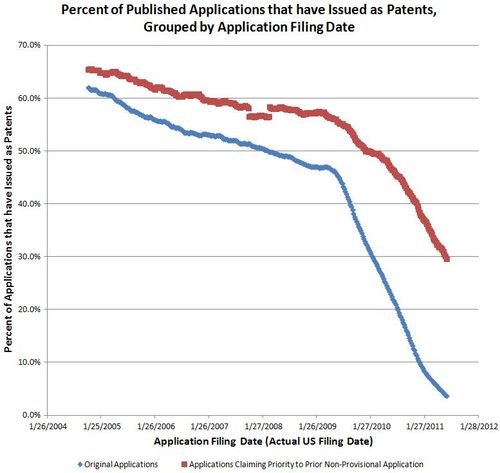 The seeming artificat in the continuation series (red) stems from a rush of continuation-application filing in the run-up to USPTO's (failed) implementation of continuation rules.  Because the rules were never implemented, many applicants abandoned those hastily filed continuations.