Christopher Cotropia is a Professor of Law and the Austin Owen Research Fellow at the University of Richmond School of Law.  Below he highlights a few important conclusions from an empirical study on patent claim construction that he recently completed.  The full study is available here.

Is Patent Claim Interpretation Review Deference or Correction Driven?
Christopher A. Cotropia
The Federal Circuit's now fifteen-year practice of reviewing lower court claim interpretation de novo is being reconsidered en banc in Lighting Ballast Control LLC v. Philips Electronics North America Corporation. Although the question of whether review should be de novo can be answered under a number of criteria, in patent cases it is commonly viewed as a tradeoff between certainty and correctness.  
With regards to certainty, the current belief is that de novo review results in great uncertainty in patent cases because litigants cannot predict the controlling claim construction in a case until the Federal Circuit makes its independent determination on appeal.  Giving district courts greater deference would, in turn, allow certainty as to claim construction to come earlier in patent cases.
In contrast, appellate review is in place, at least in part, to correct mistakes made by lower courts and ensure the "correct" result is reached in a given case. The more deference provided to lower courts, the less opportunity the Federal Circuit has to correct (or incorrect, depending on your view of the Federal Circuit) the decision.  Standard of review presents the question of who—that is which tribunal—is more likely to reach the correct answer regarding claim interpretation and, given claim meaning's central nature to the patent dispute, the ultimate question of who should win the case.   
While many aspects of these issues need to be explored to determine the optimum standard of review (how much is greater certainty worth?, who is more likely to reach the correct answer?, and what is the correct answer we want to achieve?), there is value in establishing a baseline on both issues. Assuming the Federal Circuit's claim construction is correct, it follows that de novo review results in greater correctness, albeit at the expense of possible increased uncertainty.  But both of these assumptions rest on the belief that the Federal Circuit currently engages in de novo review, currently provides no deference in practice, and arrives at the "correct" result in appealed cases, at least more often than district courts do on first pass.
In a new paper, I try to establish this baseline by collecting and analyzing Federal Circuit claim construction reviews over the last three-plus years.
At first blush, the results show there is a high level of certainty in claim construction appeals. The rate of affirmance of district court claim interpretations has been increasing since 2010.  And, in the first quarter of 2013, the affirmance rate has reached over 75%.   This data confirms that observed by Jonas Anderson and Peter Menell in 2011 for an earlier period.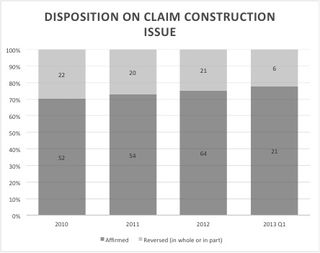 However, a closer look as to which claim interpretations are affirmed and which are reversed shows little certainty at the Federal Circuit for particular types of cases.  Lower court decisions where the patentee ultimately wins are more likely to be subject to a claim construction reversal that, in turn, causes the alleged infringer to ultimately win (or at least gives them another shot on remand).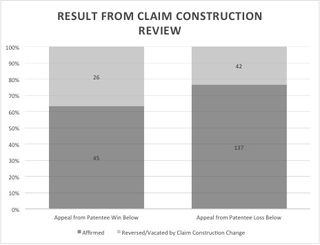 And these claim construction reversals are even more likely in appeals of cases involving electronic, information technology, or business method patents where the patentee won below. The opposite is true in cases involving patentee wins in the biological and chemical technologies—the Federal Circuit affirms these constructions, and results, more often.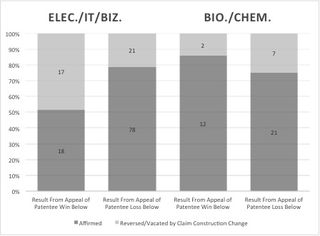 What appears to be certainty in all claim construction reviews is much more complex, with the Federal Circuit performing corrections in specific categories of cases.  And given that claim constructions are appealed in patentee wins and patentee loses at about the same rate, 46.67% to 45.94%, these findings about claim construction review are not likely driven by selection bias. Put simply, the Federal Circuit's claim interpretation review is not driven solely, or perhaps at all, by deference, but instead is correction focused.
What does this data mean for Lighting Ballast Control?  A change in standard of review would have an impact—greater certainty, and less change on appeal, for particular types of cases.  This certainty would come at a cost—losing the current correction going on.  Answering whether this is truly a cost, specifically one that outweighs any certainty gained by changing the standard of review, is left for others, as is the meta-question of what the "correct" answer is in any patent claim construction case. 
This data also describes a Federal Circuit that is very different then commonly portrayed.  The Federal Circuit, when reviewing a district court's claim interpretation, is not as patent-friendly as some would think.
A full version of the paper this post is based upon can be found here.