By Dennis Crouch
The Supreme Court today granted writs of certiorari in two patent-related cases appealed from the Court of Appeals for the Federal Circuit and one copyright case out of the Ninth Circuit.
Octane Fitness, LLC v. ICON Health & Fitness, Inc., Docket No. 12-1184;
Highmark Inc. v. Allcare Health Management Sys., Docket No. 121163; and
Petrella v. MGM, Docket No. 12-1315.
The patent cases fit as a pair and both ask questions regarding the award of attorney fees to a prevailing party. In the US, each party to a litigation ordinarily pays its own attorney fees. Thus, although an accused infringer who successfully raises an invalidity defense will not pay damages to the patentee, that prevailing defendant will still need to pay its attorneys and experts for the thousands of hours spent defending the lawsuit. Likewise, a patentee who wins an infringement lawsuit generally takes a substantial portion of any award and turns it over to the attorneys and experts who turned the patent into cash.
Rule 11(c) of the Federal Rules of Civil Procedure offers sanctions for litigation abuses and indicates that reasonable attorney fees can serve as one form of sanctions. In addition, the section 285 of the Patent Act provides that a "court in exceptional cases may award reasonable attorney fees to the prevailing party." 35 U.S.C. § 285. The language of Section 285 was first included in the 1946 statutory revision of damage calculations. However, that rather than limiting the award to "exceptional cases" the 1946 statute provided that "[t]he court may in its discretion award reasonable attorney's fees to the prevailing party." I have not researched the legislative history behind this particular
In general, accused infringers who win patent cases have three particular complaints regarding the "exceptional case" limitation: (1) that the court has too narrowly interpreted the statute so that attorney fees are rarely awarded; (2) The second complaint is that fees are more likely to be awarded to a prevailing patentee (typically based upon willful infringement) than to a prevailing defendant despite Supreme Court precedent that suggests "prevailing plaintiffs and prevailing defendants are to be treated alike." (quoting the Supreme Court copyright case of Fogerty v. Fantasy). (3) Finally, the parties complain that the Federal Circuit is too quick to overturn fee-awards rather than providing substantial deference to the district court judgment. I should point out here that – at this point – these arguments do not have strong empirical support.
Over the years, there has been substantial academic debate on the policy potential of a more rigorous loser-pay rule. The primary idea is that the loser-pays rule reduces speculative litigation and would "limit the tactical leverage gained by a party with a weak case threatening a defendant with costly litigation." At the same time, the created-risk may also over-deter by also discouraging valid claims. As Jay Kesan explains, in general, the outcome of a balanced fee shifting regime is difficult to predict since parties who believe they have a strong case are more likely to sue (with the belief they will both compensatory recover damages and recoup attorney fees). "If both parties are pessimistic, settlement will likely occur under either system. However, if the plaintiff is optimistic, he is more likely to litigate because he will get a judgment without incurring costs." Jay P. Kesan, Carrots and Sticks to Create a Better Patent System, 17 Berkeley Tech. L.J. 763 (2002). By making more at-stake in the lawsuit, we also likely shift the rate of appeal upward for cases that do not settle.
= = =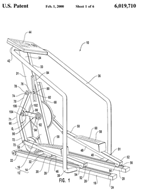 In Octane Fitness, the petition challenges the "rigid and exclusive" test that the Federal Circuit uses to determine whether a case is "exceptional." A common theme of recent Supreme Court patent cases is a holding that challenged Federal Circuit rule is too rigid and should instead be more flexible. The second theme in recent Supreme Court patent cases is a holding that, when appropriate, patent law should fall in step with all other areas of law. The petition latches onto these theme and essential says "the Federal Circuit has done it again…" The particular question raised by Octane Fitness is as follows:
Whether the Federal Circuit's promulgation of a rigid and exclusive two-part test for determining whether a case is "exceptional" under 35 U.S.C. § 285 improperly appropriates a district court's discretionary authority to award attorney fees to prevailing accused infringers in contravention of statutory intent and this Court's precedent, thereby raising the standard for accused infringers (but not patentees) to recoup fees and encouraging patent plaintiffs to bring spurious patent cases to cause competitive harm or coerce unwarranted settlements from defendants.
Icon rephrased as follows:
Patent infringement claims between industry competitors, ICON Health & Fitness, Inc. and Octane Fitness, LLC, were decided below on summary judgment. Both lower courts held that this case was not an "exceptional" patent case that would warrant the award of attorney fees to the prevailing party. Should this Court reverse the lower courts through judicial expansion of the attorney fee-shifting statute found in 35 U.S.C. § 285?
In the particular case, the district court conducted a Markman hearing and, based upon its claim construction, held that Octane's products did not infringe Icon's patent covering its elliptical exercise machine.
For its part, Octane writes that the "most compelling reason[] to grant certiorari …. [is that] the Federal Circuit's current exceptional case standard is squarely in conflict with this Court's holding in Fogerty v. Fantasy, Inc., 510 U.S. 517 (1994) … Fogerty mandates that plaintiffs and defendants be treated alike under an analogous fee-shifting provision in the Copyright Act." Of course, one problem with the even-handed mandate is that plaintiffs and defendants lose cases for different reasons. Within this framework, a party's status actually does make some difference for fee-shifting. Findings of willful infringement, for instance, favor only patentees, while findings of inequitable conduct during patent prosecution favor only accused infringers. Either party can be awarded attorney's fees based on the bad faith assertion of objectively baseless claims or other litigation misconduct.
In the background are a variety statutory proposals that would accomplish much of what Octane seeks. However, a Supreme Court decision in the case is likely to arrive before any Congressional action. See Congressing.
In Highmark, former Acting Solicitor General Neal Katyal (now at Hogan Lovells) has asked the Supreme Court to focus on whether the Federal Circuit must give deference to a lower court award of attorney-fees to a prevailing party.
The petition asks:
The Patent Act provides that A case is "exceptional" if it is objectively baseless and brought in bad faith. After living with this case for more than six years, the District Court found that it was objectively baseless and brought in bad faith, and it awarded fees. Over a strong dissent, a Federal Circuit panel reversed, holding that a district court's objective baselessness determination is reviewed "without deference." The Federal Circuit denied rehearing en banc by a vote of six to five. One of the two pointed dissents from that denial accurately observed that the decision below "deviates from precedent *** and establishes a review standard for exceptional case findings in patent cases that is squarely at odds with the highly deferential review adopted by every regional circuit and the Supreme Court in other areas of law."
The question presented is: Whether a district court's exceptional-case finding under 35 U.S.C. § 285, based on its judgment that a suit is objectively baseless, is entitled to deference.
Undoubtedly, the Supreme Court will reverse in Highmark and the reasons are well understood by the Federal Circuit judges. In all likelihood, a GVR without opinion would provide sufficient instruction to the Federal Circuit in this case. However, I suspect that we will see these two cases argued and decided in parallel with a roughly identical timeline. One important aspect of the Highmark case is the question of whether attorney fees can be awarded as a deterrent against other parties' bad behavior.
The copyright case is Petrella v. MGM and focuses on the doctrine of laches as it applies to copyright enforcement – with a particular focus on what might be termed "rolling infringement." The copyright holder in the case is Paula Petrella whose father Peter Petrella wrote two 1970s screenplays (one titled The Raging Bull) and a book about the life of boxer Jake LaMotta. A few years later(1980), Raging Bull became an Oscar winning movie. In 2009, Petrella sued MGM for copyright infringement. Now, both MGM and Petrella claim ownership over the copyrights being asserted and MGM claims that the movie does not infringe the Petrella copyrights. However, the focus of the case at the Supreme Court is whether the doctrine of laches can block a copyright holder from suing for a new act of infringement (such as distributing another copy of the movie).
Petrella presents the question as follows:
The Copyright Act expressly prescribes a three-year statute of limitations for civil copyright claims. 17 U.S.C. § 507(b). The three-year period accrues separately for each act of infringement, even if it is one of a continuing series of acts of infringement.
The federal courts of appeals have divided 3-2-1 over whether the nonstatutory defense of laches can bar a civil copyright suit brought within the express three-year statute of limitations. Three circuits forbid any application of laches or restrict the remedies to which it can apply. Two other circuits strongly disfavor laches and restrict it to exceptional circumstances. The Ninth Circuit not only does not restrict laches or the remedies to which it can apply, but has also adopted a presumption in favor of applying laches to continuing copyright infringements.
The question presented is: Whether the nonstatutory defense of laches is available without restriction to bar all remedies for civil copyright claims filed within the three-year statute of limitations prescribed by Congress, 17 U.S.C. § 507(b).
The case has obvious implications for patent law since patent law doctrine includes a similar non-statutory laches doctrine and six-year statute of limitations. It is possible that the Supreme Court will essentially eliminate the laches doctrine (but leave a claim of equitable estoppel).
It should be an interesting year in patent law.