Normally, a denial of a petition for rehearing and rehearing en banc would be a non-event.  As Hal Wegner pointed out in his email newsletter, however, Judge Plager's dissent from the rehearing in Middleton v. Shinseki is worth noting.  (Link: 13-7014.Order.1-31-2014.1)
Background: Judge Plager was a member of the three-judge panel that decided the original opinion (he dissented there as well).  Under Federal Circuit rules, he may participate in the panel rehearing and on the court sitting en banc if en banc review is granted, but may not participate in the vote whether to grant en banc review.  (You may have noticed that at the bottom of denials of petitions for rehearing and rehearing en banc there is sometimes the language "Senior Judge X, who was on the original panel, participated only in decision on the petition for panel rehearing.").
Judge Plager's words express his own views most directly.  In a footnote to his brief dissent to the panel rehearing, Judge Plager wrote:
The Chief Judge advises that the rule in this circuit, recently pronounced by a majority of the judges of the court in regular active service, is that judges in senior status, of which I am one, are prohibited from joining another judge's dissent from a denial of en banc, or authoring their own dissent expressing on record a criticism of the judges in regular active service for the failure to take a case en banc. This apparently is the rule even in this case, though as a member of the original panel I am expressly authorized by law to have sat on the en banc panel if the court had agreed to have one, see 28 U.S.C. § 46(c), so that the failure to take the case en banc has denied me an opportunity to try to correct what I consider to be a miscarriage of justice. However, my compliance with this rule, prohibiting circuit judges, because they are in senior status, from expressing an opinion on this aspect of the decisional work of the court, should not be taken as agreement with this rule, its purpose, effect, or for that matter its constitutionality.
Why this matters: Practically speaking, as Hal Wegner notes this is a non-issue in this case, since Judge Plager can express his reasons for disagreeing in his dissent to the panel rehearing.  However, that Judge Plager chose to write about this minor internal procedural disagreement suggests that there are tensions within the court.
Surging Dissents: Lee Petherbridge and I recently revised our study of Federal Circuit dissents based on many of the comments we received on PatentlyO.  Below are some figures that did not make it into the revision but which are nonetheless quite striking.
The first is a graph that combines data from Table II of Professor Jeffrey Lefstin's 2005 study of Federal Circuit dissents with our own data.  The usual caveats about cross study comparisons apply (although the data should be pretty comparable as it ultimately came from the same source).   These are absolute numbers of dissents, not frequencies; the frequency chart indicates an even more striking difference.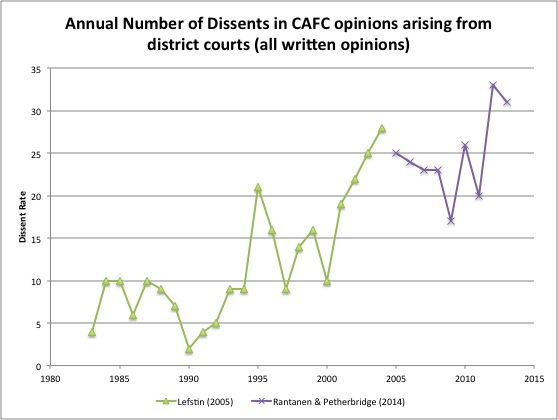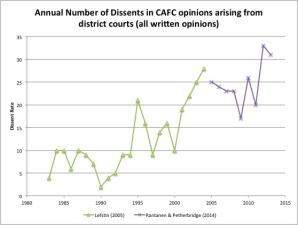 The second item is a pair of pie charts showing the numbers of alternate writings (mainly dissents and concurrences) for each judge for the first and second parts of our period, using January 1, 2011 as a break point.  While Judge Newman is the most frequent author of alternate writings, she only accounted for about a quarter of the alternate writings for the first period, and since 2011 her relative frequency of alternate writings declined.  In other words, these alternate writings aren't simply the work of a single judge; they're being written by a significant number of judges on the court.
The legends in the above figures identify the judges with more than 5% of the total share of alternate writings for that period.  I haven't yet broken out dissents alone, but my suspicion is that they aren't going to be meaningfully different.