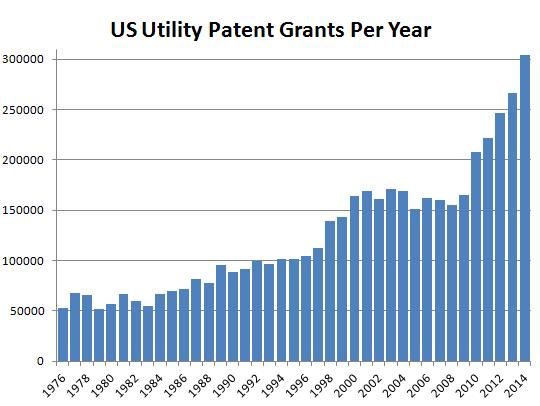 Fiscal Year 2014 has just ended for the Federal Government and – as expected – we have a new record number of US patent grants. For the first time, the USPTO has issued more than 300,000 utility patents in one fiscal year. Don't worry, there remain more than 1,000,000 applications pending in the pipeline and more than 25,000 appeals remain pending before the Patent Trial and Appeal Board. During the fiscal year, the 8,300 patent examiners 'disposed of' more than 600,000 cases which in some circles will be calculated as an allowance rate of about 50%.*
Although I reported a rumored pull-back of allowed applications following the Alice Corp. decision in June 2014. However, the numbers do not reflect any dramatic reduction in the number of patents granted during this time period.
An important aspect of this new set of patents is that most corporate-owned U.S. patents are actually owned by foreign corporations stemming from inventions first created outside of the U.S.  I believe that shift in who is directly benefiting from patent rights is an important element of the current US political-economy of patent law. Namely, while only US-operators are being sued for patent infringement, patent ownership is often vested in non-US operators.
* The USPTO identifies a case as being disposed of if it (1) issues as a patent (or when allowed), (2) is abandoned, or (3) is the subject of a request for continued examination (RCE). Because I see RCE filings as simply a part of the prosecution process, I do not think it should be used in calculating allowance rate.  Result being that the allowance rate is effectively increased to about 70%.