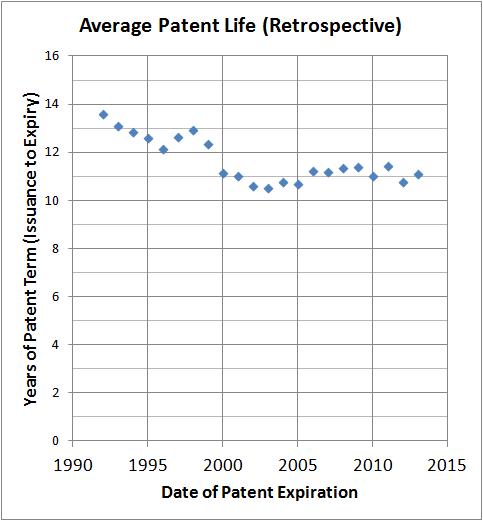 The chart above shows a time series for the average "life" of US utility patents.
Prior to 1980, the term of U.S. patents was fairly standard at 17-years from the issue date. The primary caveat related to terminal disclaimers used to avoid double-patenting rejections.  In 1980, Congress added maintenance fees that created a market incentive for patentees to reduce their patent term when the cost of the fees-due was more than the patent value.  After issuance, three additional maintenance fees are due.  Today, those fees are set at: $1,600 at 3.5 years after issue; $3,600 at 7.5 years after issue; and $7,400 at 11.5 years after issue.  In 1995, Congress again changed the patent term by eliminating the 17-year-from-issue calculation and replacing it with a term running for 20-years-from-priority-filing (not counting foreign-national or provisional priority).  In 2000, patent-term-adjustments began that now add substantial term to most issued patents (this replaced the largely ineffective extension regime).
The chart above look groups all the patents according to their year of expiration and then reports the average patent term for each group of expired patents.
The drop in term in this chart is largely due to implementation of maintenance fees. Going forward, the shape of the chart will largely depend upon the fee structure (higher fees => lower terms).