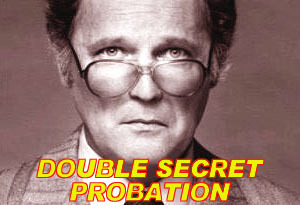 The USPTO operates a Sensitive Application Warning System (SAWS) that internally flags pending applications that include "highly controversial" claims or that might create "unwanted media coverage" for the USPTO or the Administration.  Those flagged applications are apparently tiered and then, before allowance, must be approved by either a technology center director or upper PTO management.
In general, I agree with the USPTO's policy of attempting to apply more examination firepower in areas where it is needed, either because of the difficulty of examination or a likelihood that issued patents will be highly disruptive to settled expectations.  However, I have concerns as to how the policy is being carried-out here, in the SAWS program. And, because the USPTO is ordinarily very forthcoming with its examination process and results, its attempts to hide its actions here tend to suggest that it has reasons to hide.
In January 2015, the USPTO denied my request for a list of all published patent applications that had been flagged for the SAWS program (as well as reasons for the flag), and whether USPTO political-appointees were reviewing particular applications.  I then appealed that decision internally to the USPTO general counsel's office and that appeal has now been denied. [FOIA Appeal Denial A-15-00008].
The Freedom of Information Act requires Federal Agencies to, "upon any request for records … shall make the records promptly available to any person."  5 U.S.C. 552(a)(3).   However, the law also includes a set of exceptions. Notably, the statute indicates that the agency is not required to disclose "(5) intra-agency memorandums or letters which would not be available by law to a party other than an agency in litigation with the agency."  5 U.S.C. 552(b)(5).  The statutory exception is a bit oblique, but has been interpreted as a sort of privilege for executive agencies.  
Citing Exception 5, the USPTO has rejected my appeal – arguing that the requested list of applications is protected by both "quasi-judicial privilege" and "deliberative process privilege."  [FOIA Appeal Denial A-15-00008]. In general, I do not believe that the USPTO's list of SAWS applications fits into these definitions of privilege as defined by the case law.
The next step is to file a civil action, although I have not yet decided upon that course.