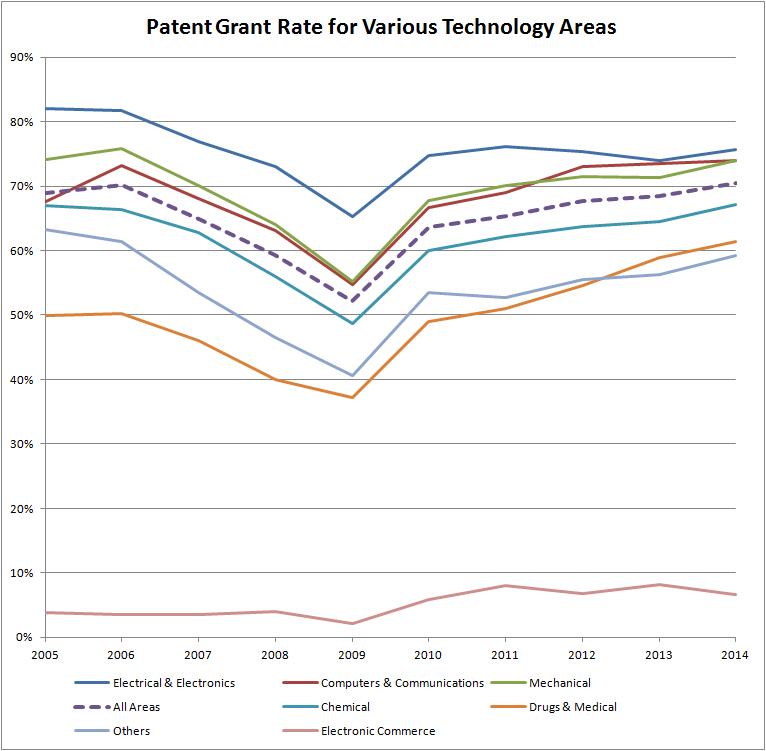 The chart above shows the USPTO patent grant rate across a variety of major technology areas. I apologize for the tightness of the lines, but there are several overall trends that are easy to discern.  In particular, the general trend reported last week – a drop in grant rate followed by a rise once Director Kappos took charge – is present in each of the major technology areas. In general, you will also see less variance between the technology areas in later years. It is unclear at this point if that coming-together is due more to USPTO practices or to applicant practices or some other unknown factor.
The major outlier in the group is electronic commerce patent applications.  Those applications continue to be granted at a rate of < 10%
Regarding the sources: The data primarily comes from the USPTO Chief Economist Alan Marco and his team [LINK].  For each year in the chart, I calculated the percentage of patent applications that were issued as patents (relative to the number disposed-of as either abandoned or issued).  Thus, a figure of 70% grant rate would indicate that, of the respective patents that were fully disposed-of during the given time period, 70% issued as patents and 30% were abandoned.  If an application is still pending at the end of the time period then it is not counted.  Likewise, the applicant's filing of a continuation application before abandonment/issuance has no impact on the grant rate for the given year.  The technology categories here are linked to the NBER technology areas except for eCommerce that I coded (Class 705 and 701/467, corresponding to Art Units in the 3620's, 3680's, and 3690's).  Of importance, the data here goes only through disposals made in September 2014.