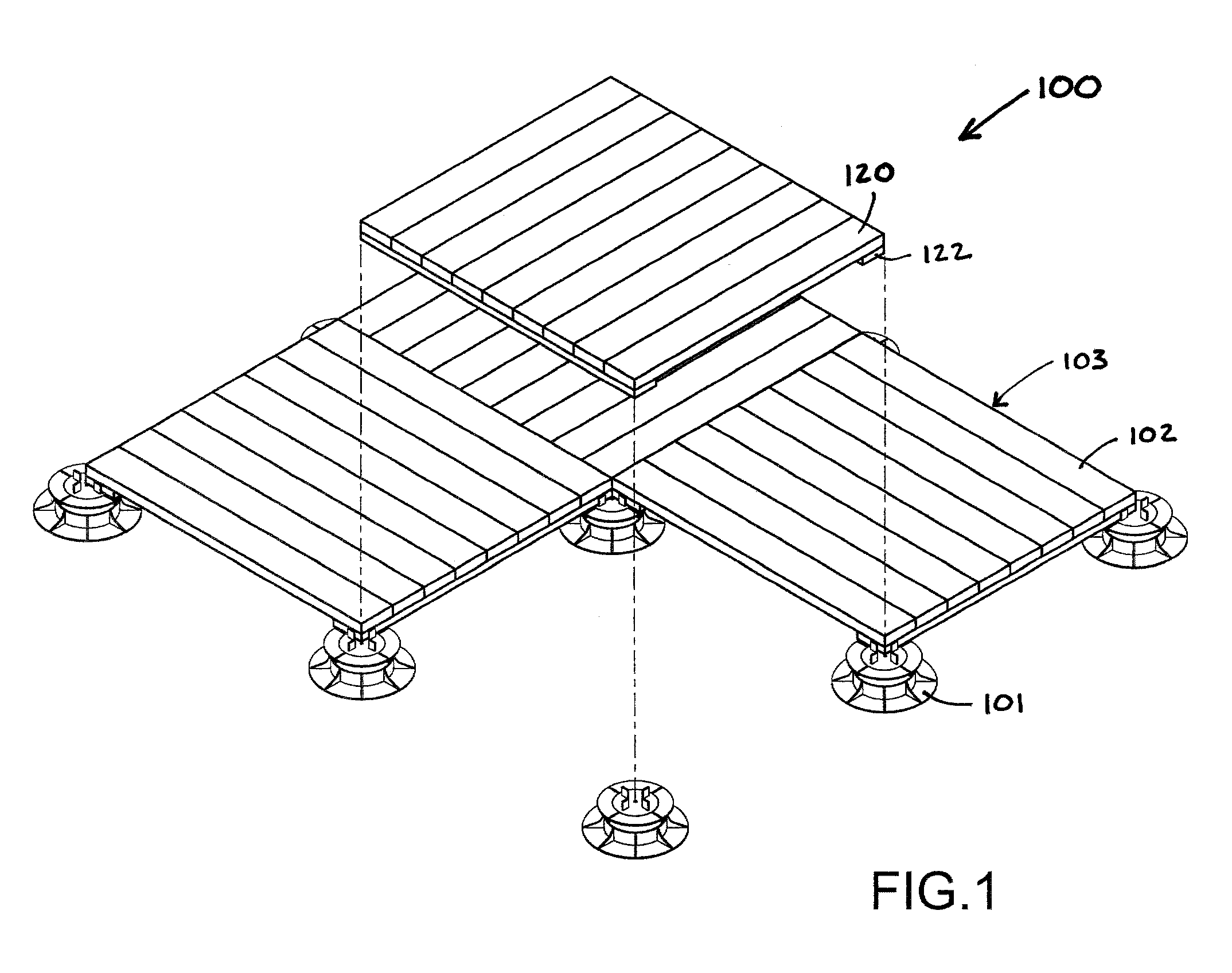 by Dennis Crouch
United Construction was won on default judgment and was awarded a permanent injunction to bar Tile Tech from ongoing infringement of its U.S. Patent No. 8,302,356.  Although Tile Tech had participated in the case, it had missed many discovery deadlines and had produced only two document – both of which were nonresponsive.  The district court issued an order to comply with a warning that failure to comply would result in default judgment.  Tile Tech did not respond to the order and the court then entered default judgment. (Tile Tech had also destroyed evidence …)
The patent at issue is covers a support pedestal used to secure tiles elevated above a flooring base.  Some folks use these to support a roof-top deck, for instance. (Tile Tech's Website showing use).
On appeal here the Federal Circuit has affirmed – finding that the district court did not abuse its discretion in issuing the default judgment (following 9th Circuit law)
Here, the District Court gave ample warning to Tile Tech in its Order to Compel that it would enter default judgment if discovery responses were not forthcoming. . . . The District Court's opinion demonstrates its thorough consideration of the Malone factors leading to the ultimate decision not to impose lesser sanctions in this case, a decision which we find was not an abuse of discretion. As the District Court explained, "[w]here a party so damages the integrity of the discovery process that there can never be assurance of proceeding on the true facts, a case dispositive [remedy] may be appropriate."
Quoting Conn. Gen. Life Ins. Co. v. New Images of Beverly Hills, 482 F.3d 1091, 1097 (9th Cir. 2007).
The Federal Circuit's one interpretative change involved a portion of the injunction that barred Tile Tech from using using images of the patentee's products in "any marketing material."  This portion of the injunction was not based upon the infringement claim but instead upon the parallel unfair competition claim.  Still, Tile Tech argued that the injunction was over-broad because it would bar legal activities such as competitive advertising where there is no likelihood of confusion. On appeal, the Federal Circuit agreed with Tile Tech that such a prohibition would be over broad.  However, instead of amending or vacating the injunction, the Federal Circuit determined that the injunction should simply be narrowly interpreted: "To the extent that in the future Tile Tech's advertising clearly distinguishes its product from that of United's in a comparative advertisement, in a way that is not 'an act of unfair competition,' we read the injunction to not prohibit such uses."  With that limitation, the injunction fit within the proper bounds.