University of Maryland Biotech Institute v. Presens Precision Sensing (Fed. Cir. 2017)
In a non-precedential decision, the Federal Circuit has affirmed the USPTO handling of the inter partes reexamination of Maryland's U.S. patent No. 6,673,532. The examiner rejected claims 1, 3– 6, 9–11, 13–16, 19, and 20 as obvious under 35 U.S.C. § 103.  That determination was affirmed by the PTAB and now by the Federal Circuit.
Note, the inter partes reexamination was filed in 2011 and at that time Maryland did not challenge the process on Eleventh Amendment Immunity grounds.  However, the same patent was challenged in an Inter Partes Review (IPR) in 2016 and the PTAB recently dismissed the petition on sovereign immunity grounds. [IPR2016-00208 28 – Termination – Dismissed After Institution].  In the appeal, Maryland did not raise the issue.
Here, the patent covers growing cells in a cultivation vessel that includes various LEDs and light sensors.   This process can be used to make several non-invasive observations, including oxygen level, optic density, pH, etc.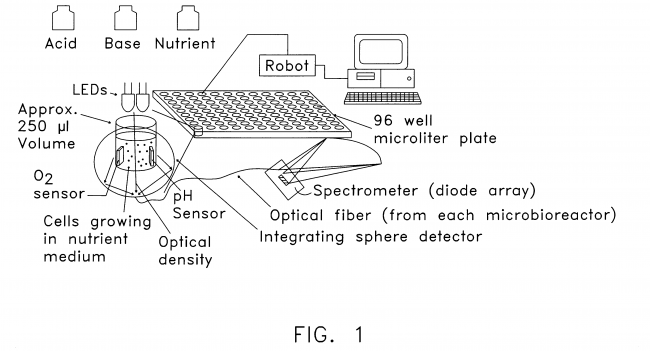 The prior art rejection combined two references.  One of which taught what was claimed – certain sensors within the cultivation vessels themselves – and the other reference disclosing the sensors "located in individual flow-through units outside the cultivation vessel."  The second reference was needed though to complete the obviousness analysis.
On appeal, the patentee argued that combining the references was not proper because of the two different vessel configurations.   The Federal circuit rejected that approach – holding that PHOSITA is "not an automaton . . . limited to physically combining references."  While a court may ask whether "substantial reconstruction and redesign" would be necessary to combine the references.  However, as KSR demands, "The combination of familiar elements according to known methods is likely to be obvious when it does no more than yield predictable results."
Obviousness affirmed
= = = = =
As an aside, patent law may do well to move-on from the automaton language.  Nobody knows what an automaton really is — does someone have one they can show me? How does an automaton compare with contemporary AI?