By Prof. Sean Tu (WVU) with Chris Holt (VP at LexisNexis IP)
Previously, I published a study which set out to determine how examiners issued patent applications. This original study focused only on issued patents, and coded over 1.5 million patents issued January 2001-July 2011. The main limitation on this study was that it focused only on allowed patents. Accordingly it suffered from a "denominator" problem. Specifically, it was difficult to determine how examiners actually behaved without knowing how many pending applications they had in their docket, as well as how many applications went abandoned.
Six years later, I have followed up on this study by collecting information regarding not only the examiners' issued patents, but their abandoned patents as well as the total number of office actions issued by every examiner with an active docket as of June 2017. Using LexisNexis PatentAdvisor, we were able to pull the dockets of all active examiners (every examiner with a pending application as of June 8, 2017). Accordingly, this study captures 8,537,660 office actions, 2,812,177 granted patents and 1,255,552 abandonments from 9,535 examiners including from January 1, 2001 to June 8, 2017.
This new dataset is both more detailed and more narrow compared to my previous study. However, I believe, this information is more useful to practitioners today because it shows what is going on at the office at this moment in time. It excludes previous examiners who have retired or are no longer at the PTO. These data exclude examiners with any pending training academy cases (Technology Center 4000) in their active docket. Accordingly, these data filter out the most junior examiners.
From this dataset, we create two new examiner metrics the: (1) Office Actions per Grant Ratio (OGR) and (2) Office Action per Disposal Ratio (ODR). The OGR score simply divides the examiner's total number of Office Actions by the number of issued patents. The ODR score divides the examiner's total number of Office Actions by the sum of the number of issued patents and abandonments. From these two scores, we can determine if examiners are spending their time writing a lot of Office Actions or granting patents.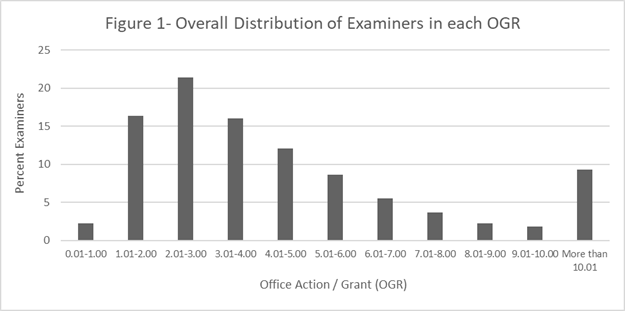 As shown in Figure 1, overall, there is a wide range of OGR scores across the United States Patent & Trademark Office (USPTO), commonly ranging from approximately 0.2 to 23. Furthermore, overall, most examiners have an OGR of 3.0 or below. Examiners with training academy cases (Technology Center 4000) have been filtered from these data.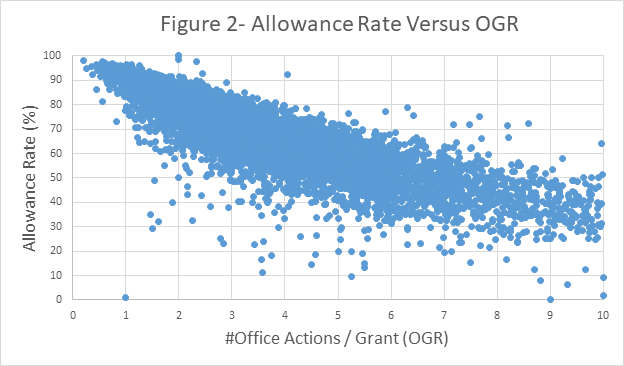 As shown in Figure 2, these OGR scores roughly correlate to allowance rates, but there are a significant number of examiners that do not have an allowance rate that corresponds with OGR scores. Predictably, those examiners with a low OGR have a high allowance rate (those examiners who grant patents within one Office Action will almost necessarily grant more patents). In contrast, examiners with a high OGR score have a low allowance rate, that is, those examiners who write many office actions before allowance will have lower allowance rate. Accordingly, at the periphery, allowance rate and OGR correlates fairly well. This relationship between OGR and allowance rate, however, is not perfectly linear, and this is especially true for those examiners with an OGR score between 2.0 and 4.9.
Furthermore, there are more examiners with high OGR scores in Technology Centers 1600 and 1700, which may reflect the complex nature associated with biotechnology and chemical patents. Specifically, of the examiners that have an OGR score of 10 or more, 17.6% and 12.8% come from 1700 and 1600, respectively. In contrast, there are a higher number of examiners with low OGR scores in Technology Center 2800, which corresponds to Semiconductors, Electrical and Optical Systems and Components. Specifically, 64% of examiners with an OGR score of lower than 1.0 come from Technology Center 2800.
Interestingly, when broken down into Workgroups, this study finds that there can be large variation in OGR scores. For example, Figure 3 shows that in Technology Center 1700 (Chemical and Materials Engineering), Workgroup 1780 (Food, Miscellaneous Articles, Stock Material) has a disproportionate number of examiners with high OGR scores when compared with other Workgroups within 1700. In contrast, Workgroup 1750 (Solar Cells and Electrochemistry) has a disproportionately high number of examiners with low OGR scores when compared with other Workgroups within 1700. Similarly, in Technology Center 3600, Workgroups 3620 and 3680 have many examiners with high OGR scores, which is unsurprising since both Workgroups encompass "Data Processing: Financial, Business Practice, Management, or Cost/Price Determination" or business methods type applications.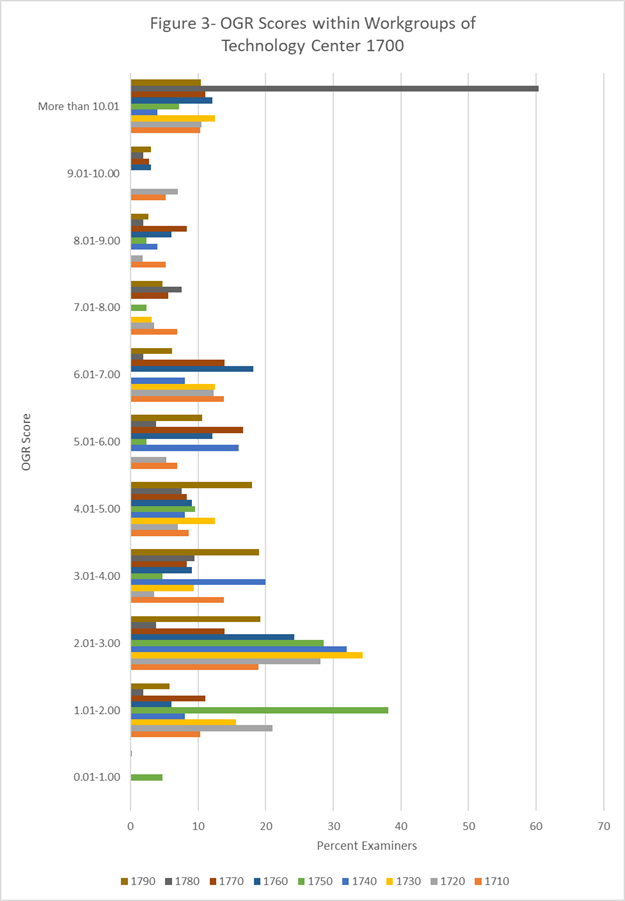 This paper confirms many of the findings from my previous study. Specifically, junior examiners have a much lower allowance rate and a much higher OGR score than their more experienced counterparts. This is unsurprising since junior examiners will have written only a few Office Actions (usually less than 500) and have only allowed a few cases. However, this study also goes much further than my previous study. By looking at allowances and abandonments as a function of Office Actions written, we can get an idea of the general rate of patenting at the patent office and how these rates differs among different technology centers, workgroups and art units. This study shows how examiners spend their time, either writing office actions or allowing cases.

This study focuses on overall patent office trends as well as trends at the technology center and workgroup levels.  PatentAdvisor's "Examiner Time Allocation" metric can also be used to forecast the time and expense required to obtain a patent and is based on each specific examiner's body of work.
As with my previous study, I note that there is no "ideal" patent allowance rate. It is possible that both populations of examiners with low and high OGR scores are doing an excellent job of rejecting "bad" patents and allowing "good" patents. This study gives insight into how "average" examiners behave in a particular technology group. One argument may be that examiners who are two or three standard deviations from this "average" should be scrutinized at a higher degree.
A full draft of "Office Actions per Grant Ratio (OGR): A New Metric for Patent Examiner Activity" is available on SSRN at: https://papers.ssrn.com/sol3/papers.cfm?abstract_id=3100326.