by Dennis Crouch
The chart below provides one view of prior art citations in utility patents over the past decade or so (Jan 2005 – May 2018). I divided up cited references into three broad categories: Top) Non-Patent Literature; Mid) US Patent Application Publications; and Low) All other US & Foreign Patent Documents. The chart shows per-patent averages for each of these categories grouped by patent issue year.
There are two easy descriptive conclusions to draw from the cart: (1) Overall, the average number of cited references has continued to rise during this time period; and (2) while each category has grown, most of the growth is in the citation of US patent applications.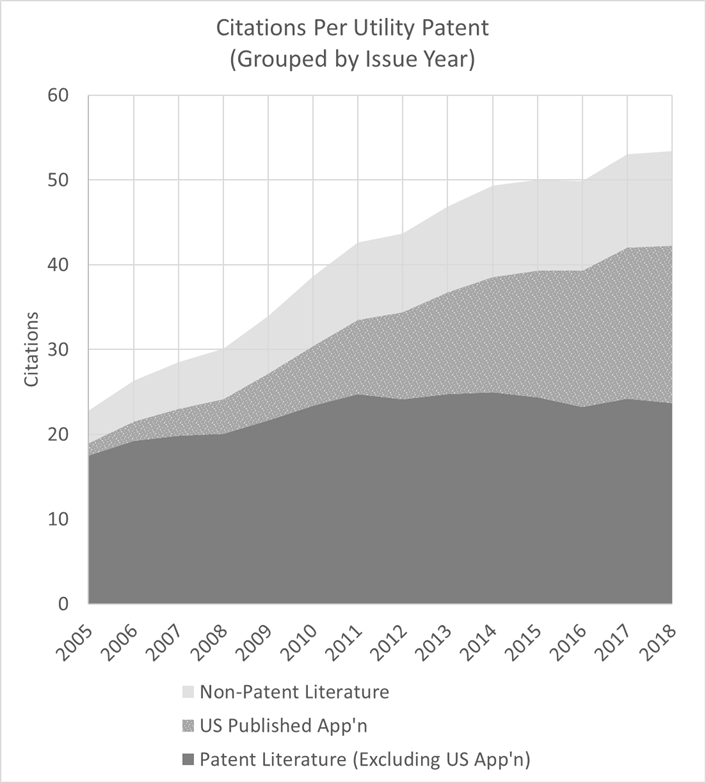 The USPTO only began publishing applications in 2001 and so growth was expected. Published patent applications are especially useful because their timing of publication (18 months after filing) corresponds well with the prosecution timeline (First action at approximately 15 months).  For patent applications that never issue as patents, the publication does more than simply shift-back timing — those patent documents would have never entered the public domain.  I have not yet gone back to research what percentage of cited published applications fall into this second category of published-but-never-patented.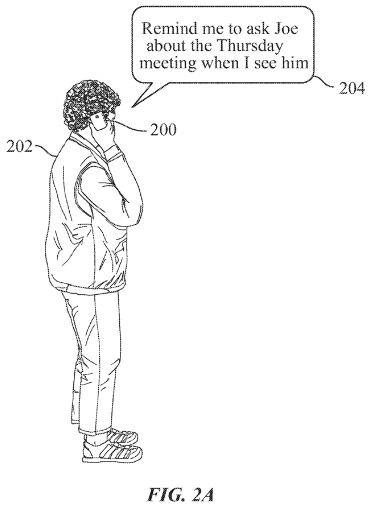 For 2018 (through May 31), the prize-winner is APPLE's U.S. Patent No. 9,986,419 with 6,701 citations (six thousand seven hundred and one)! The patent claims "social reminders:"
Claim 31. A method comprising:

at an electronic device:

receiving input representing user instruction to provide a reminder in the future, the user instruction identifying an entity; and

after receiving the input:

detecting, by a microphone of the electronic device, an audio input;

identifying, in the detected audio input, a voice corresponding to the entity; and

in response to identifying the voice, providing the reminder.
The image above shows the way it would work. User asks iPhone to "remind me to ask Joe when I see him;" When iPhone hears Joe's voice nearby, it provides the reminder to User.  I'll note here that the patent was issued without rejection.
Coming in a close 2nd and 3rd in terms of most-prior-art-citations is Apple's U.S. Patent No. 9,966060 (User-Adapted Speech Synthesis and Recognition); and Apple's U.S. Patent No. 9,865,248 (Text to Speech) — both of which have 6,000+ cited references. (In fact of the patents issued thus far in 2018, the 8 with the most cited references are all Apple patents.
I called Apple the "prize winner" since they submitted more prior art references than any other entity or inventor. The problem – of course – is that it is impossible for the examiner to consider all of these references, And I am willing to bet that neither the patent attorney nor the inventors read all of these.  In an article I highlighted last year, Prof. Jeffrey Kuhn termed any patent with 250+ citations as "impossible" — because the examiner simply would not have time to review those citations before making a decision on patentability. Kuhn wrote that a "small proportion of patents [are] flooding the patent office with an overwhelming number of references."