by Dennis Crouch
In re Tropp (Fed. Cir. 2018)
Despite the text of the 4th Amendment of the U.S. Constitution, our government has determined that US Citizens who want the privilege of travel-by-flight implicitly give up their rights of privacy.  I used to travel with a lock on my luggage.  Of course these days, that lock will likely be broken by Transportation Safety (TSA) officials in the search for bombs (and incidentally uncovering other contraband).
Tropp's patent application is focused on a special set of luggage locks that help the TSA by providing a master key.  The application here is part of a portfolio that claims priority back to 2003-2004.  The 2003 application was followed by a continuation-in-part in 2004 that was then followed in 2012 by the present continuation-application.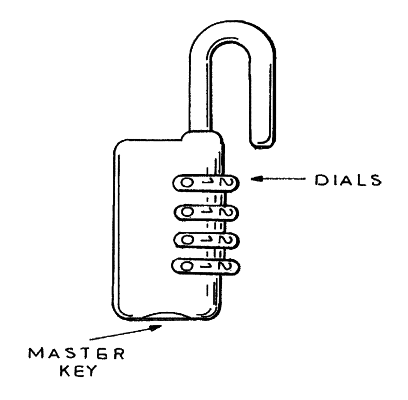 During prosecution, Tropp rewrote his patent claims in this case to focus on "a set of locks" that each have dials for a traveler to use and a master key portion for TSA.  The claims require some differences among the set — splitting them into two subsets with different number of dials for locks in each subset.
During prosecution, the USPTO rejected the claims — finding that they lacked written description support.  Although the specification does describe embodiments with different numbers of dials, the PTAB held that the specification does not describe a "set of locks" that include both sets of embodiments.  This case fits within the line of written description cases where all of the elements of a claimed invention are described, but where the specification does not describe how to fit those various elements together.
On appeal, the Federal Circuit vacated-and-remanded — holding that the PTAB had failed to fully consider the additional specification provided by the continuation-in-part. Here, the CIP did add some info, but only obliquely — indicating that a single master-key could "include special locks having a multiplicity of sub-types, such as different sizes, different manufacturing designs or styles, etc."
In its decision, the PTAB had seemly incorrectly refused to consider the added disclosure from the CIP — calling it "new matter."   Of course, the whole point of filing a Continuation-in-Part application is to add new matter — totally permissible.   Waldemar Link v. Osteonics Corp., 32 F.3d 556, 558 (Fed. Cir. 1994) ("Claims containing any matter introduced in the CIP are accorded the filing date of the CIP application. However, matter disclosed in the parent application is entitled to the benefit of the filing date of the parent application.").
Written description is a question of fact an so PTAB determination is ordinarily given deference on appeal. Here, however, the appellate panel identified the error as "failure to consider the totality of the record in assessing written description" — which is an error of law reviewed de novo on appeal.
On remand, the Board will reconsider the issue of written description — looking particularly to whether the new disclosure found in the CIP is sufficient to prove possession of the claimed "set of locks" invention.
= = = = =
I wonder whether Tropp will have a trademark problem. His patents are assigned to his small Brooklyn company "Iowa Hawkeyes LLC."