by Dennis Crouch
In re: Infinity Headwear & Apparel, Docket No. 18-01998 (Fed. Cir. 2019).
This case is fairly silly – The claims at issue cover a hooded blanket and stuffed toy combination — found invalid reexamination. On appeal, the patentee argued that the PTAB had conducted an improper claim construction that "equated a monkey with the claimed hood."
Unlike the present invention, however, Katz's hooded jacket includes a stuffed monkey attached to, or forming, the back portion of the hood. . . .

[U]nlike the present invention where the hood itself forms the stuffed toy, Katz's hood is stuffed into monkey to form the stuffed toy. Also, in Katz, a stuffed toy always exists because monkey, which includes separately stuffed arms and legs, is sewn to the back portion of hood. In contrast, in the present invention, no stuffed toy exists until blanket is stuffed into hood.
Invalidity affirmed on appeal (R.36).  Images from the invalidated patent and the key prior art (Katz) are shown below.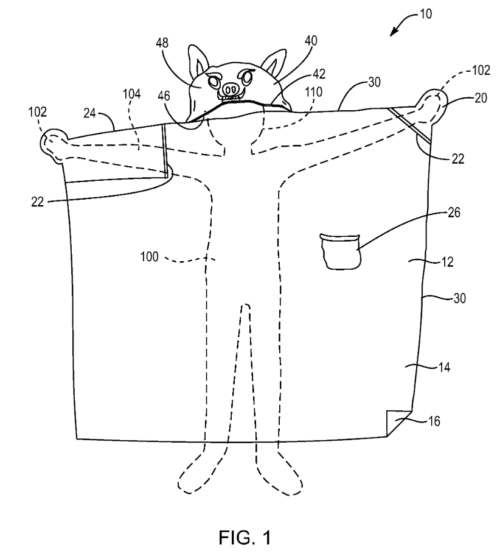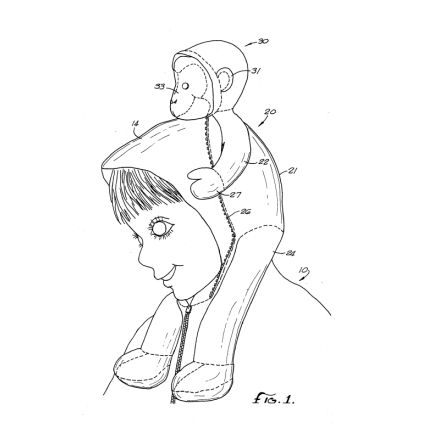 Yes, I am aware that this case – especially as whimsically presented here – pushes against my call for the Federal Circuit to actually write opinions. The PTAB decision is based upon anticipation, and the patentee provided a series of explanations regarding the distinction between its claims and the single prior art reference. I suspect that the Federal Circuit would actually have a difficult time penning the anticipation case even here.