Uniloc 2017 v. Apple (Fed. Cir. 2019) (appeal pending)
As in most patent cases, the parties to this litigation stipulated to a fairly tight protective order that was entered by Judge Alsup. Many of the documents filed in the case were filed under seal, including elements of the motion to dismiss for lack of standing (arguing that the plaintiff doesn't actually own the patent).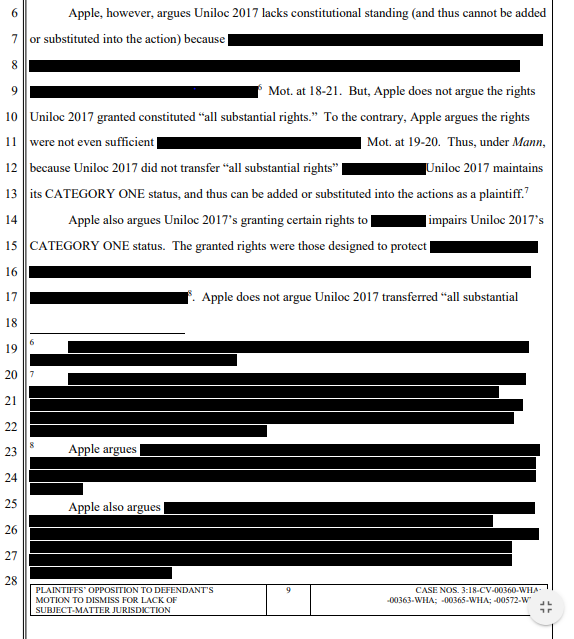 However, in January 2019, the Electronic Frontier Foundation ("EFF") moved to intervene and request unsealing of the parties various briefs and documents "for the limited purpose of vindicating the public's right to access court records."  EFF explained:
Defendant Apple has filed a dispositive motion asking the Court to dismiss this case on the basis of lack of subject matter jurisdiction. But page after page of the public briefing relating to that motion is hidden behind redactions. The public has no access to the underlying facts. Even lengthy sections of the legal argument are redacted, leaving the public with no way to understand the dispute. This conflicts with the public's common law and First Amendment right of access.

The Ninth Circuit has held that "compelling reasons," are required to seal documents used in dispositive motions. . . . While all court proceedings are presumptively open, the public interest in patent disputes is particularly strong because patents potentially govern the conduct of anyone who wants to make, use, or sell the claimed inventions. Thus, the public has an interest in knowing who owns, or might claim rights to enforce, a patent. Plaintiffs in this case appear determined to hide such facts from the public. But Plaintiffs' desire to confound the public cannot trump the public's First Amendment right of access. The Court should deny the motions to seal and ensure access to court records.
[EFFMotion] In response, Judge Alsup denied the motion to seal documents — holding that the parties had failed to provide compelling reasons to justify sealing and that generalized assertions of "potential competitive harm" are insufficient to outweight the public's right to know. [DenialOfMotionToSeal]
Although Judge Alsup agreed to unseal the documents, he also granted a stay of deadlines pending appeal. Thus, the question of sealing is now pending before the Federal Circuit.  Meanwhile, Uniloc has agreed that it was initially overzealous in its approach to sealing documents (offering to unseal 90% of the materials originally filed under seal), but also argues that the court should particularly avoid unsealing a a document that includes "a table of the 109 of licenses Uniloc entered into between 2010 and mid-2017 [that] identifies the licensee, the date of the license, the amount paid and the license type for each license."  According to Uniloc, the names of patent licensees and their payments are rightfully kept confidential. [Uniloc2017AppealBrief]
[To be updated as EFF and Apple weigh in].