Iridescent Networks, Inc. v. AT&T Mobility, LLC  (Fed. Cir. 2019)
AT&T's legal arguments get a win — by proving that its products a loss.
Iridescent's patent covers a method of providing "high quality" bandwith "on demand" using custom routes (rather than ad hoc packet-by-packet routing) to maximize the availability of bandwidth, minimize packet loss, and reduce latency.
On appeal, the main issue was the meaning of "high quality" network service as used in the claims.  AT&T argued particularly that the term should be defined as having a connection speed of >= 1 mbps; packet loss <= 0.0001%; and latency of < 1 second. Under that definition, everyone agreed that AT&T's service was not "high quality."
On appeal, the Federal Circuit agreed.  Although the patent does not define "high quality," it did provide a chart that appeared to delineate between some services that are high quality and those that are not.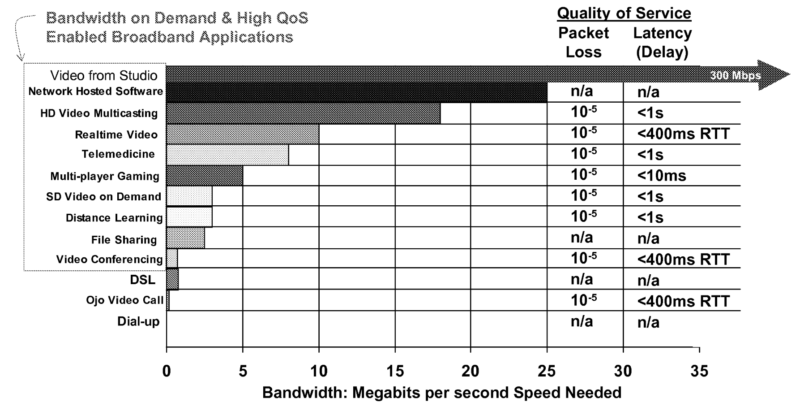 When looking at the prosecution history, this appears to be an easy case. In response to an enablement rejection over the "high quality" term, the patentee explained the term's meaning has being tied to particular numbers:
High QoS (quality of service) may be viewed in the present application as having speeds varying from approximately 1–300 megabits per second, packet loss requirements that are typically about 10-5, and latency requirements that are typically less than one second. These are commonly used parameters . . . .
Ordinarily, the Federal Circuit looks to the prosecution history when there is some disavowal of scope.  Here, the statement might not have risen to disavowal, but were still considered important because the term "high quality" service did not have a clear ordinary and custom meaning in the field.
In these circumstances, where there is no clear ordinary and customary meaning of a coined term of degree, we may look to the prosecution history for guidance without having to first find a clear and unmistakable disavowal.
Thus, the decision here provides some caution and guidance to patent prosecutors using "coined terms:" (1) even if your term uses "ordinary words" it can be considered coined if it lacks an "ordinary and customary meaning" in the art; (2) the court is more willing to look to prosecution history to understand the meaning of a coined term.