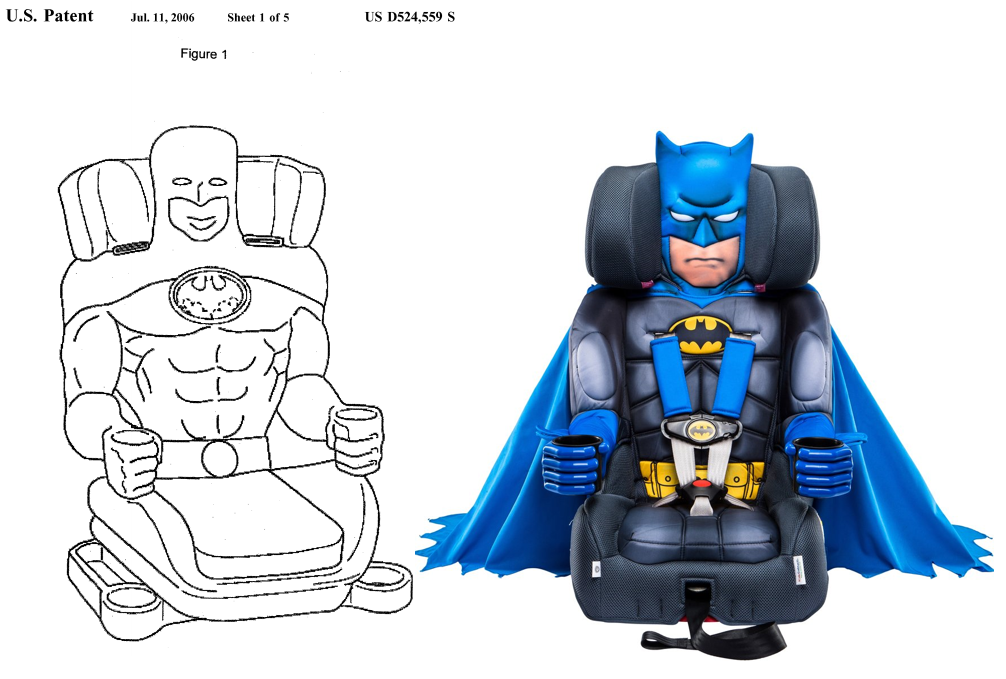 by Dennis Crouch
Inspired Development Group and Mitchell Prine v. Inspired Products Group (dba KidsEmbrace) (Fed. Cir. 2019)
Mr. Prine is the listed inventor of U.S. Design Patent No. D524,559 and several other super-hero related car seats. Prine formed Inspired Development and assigned patent ownership to that company. Prine then formed another company, KidsEmbrace, to sell the car seats with an exclusive license from Inspired Development.  KidsEmbrace was then bought-out by Boliari who later terminated the license agreement. Prine sued for the money — suing for breach and unjust enrichment under Florida law.
The district court sided with KidsEmbrace and dismissed the lawsuit on summary judgment. On appeal, the 11th Circuit did not review the merits but instead found a failure of diversity jurisdiction (the stated basis for federal jurisdiction in the case). By that time, KidsEmbrace wanted the district court decision to stick, while Prine meanwhile filed a new lawsuit in state court and was hoping the federal action was fully vacated.
On remand from the 11th Circuit, the KidsEmbrace argued that the license dispute was actually a patent law dispute and the district court agreed. That finding of federal jurisdiction allowed the prior holding to stick.  Prine again appealed to the 11th Circuit who then transferred the case to the Federal Circuit to determine whether federal subject matter jurisdiction exists under  28 U.S.C. § 1338(a).
The district courts shall have original jurisdiction of any civil action arising under any Act of Congress relating to patents. . . . No State court shall have jurisdiction over any claim for relief arising under any Act of Congress relating to patents. . . .
Id. On appeal, the Federal Circuit has again dismissed the case — finding that the contract dispute does not arise under the Federal Patent laws.
This case does not allege a federal claim directly, but KidsEmbrace argues that the unjust enrichment claim by Prine was effectively an infringement claim. On appeal, the Federal Circuit rejected that argument — finding "no support."
State law claims can arise under U.S. patent law, but only if they qualify under the four-part Gunn test:
the patent law issue is necessarily raised;
will be actually disputed;
is substantial; and
is capable of resolution in federal court without disrupting the federal-state balance.
Gunn v. Minton, 568 U.S. 251, 256 (2013).  These factors are tested against the complaint.  On appeal, the Federal Circuit found the case lacking — in particular holding that the unjust enrichment claim could be proven in several ways that did not require patent law infringement questions.
[O]ne way Inspired Development could prove that KidsEmbrace "accepted and retained" a benefit at Inspired Development's expense was to show that KidsEmbrace used one or more of Inspired Development's "utility and design Patents" in the car seats it manufactured and sold. Thus, Inspired Development's unjust enrichment claim potentially raises a question of patent law regarding infringement.

Demonstrating infringement, however, is not the only way that Inspired Development could succeed on its claim. It is often the case that a licensee, and in particular an exclusive licensee, benefits from the grant of a license regardless of whether or not an infringing product is actually created. For example, if a product is possibly but not certainly infringing, an entity may procure a license in order to avoid uncertainty and litigation. The benefit in this case is the entity's ability to invest or have others invest in its products with greater confidence, as well as the avoidance of costs and fees associated with suit.
In addition, the court found that the patent issues raised are not "substantial" under Gunn because its resolution is not of direct interest to the Federal Government and is unlikely to impact other cases.
= = = =
Note – the Federal Circuit here appears to approve of exclusive patent licensing programs designed to ensure that potential products stay off the market.  That seems problematic.