UCP International Company Ltd. v. Balsam Brands Inc., Appeal No. 18-2231 (Fed. Cir. 2019)
In a separate post, I'll write about the underlying decision here. This post is about the opening paragraph that begins with a reference to companion case (18-1256) involving the same case:
The instant appeal is the companion to concurrently issuing Appeal No. 18-1256 ("the Merits Appeal"), where we determined that the U.S. District Court for the Northern District of California misconstrued the "pivot joint" claim term of U.S. Patent Nos. 8,062,718 ("the '718 patent) and 8,993,077 ("the '077 patent") (collectively, "the Patents-inSuit"). See UCP Int'l Co. v. Balsam Brands, Inc., No. 2018-1256, slip op. at 27 (Fed. Cir. Sept. 19, 2019). We presume familiarity with our opinion in the Merits Appeal which recites the same technology and patents as the instant appeal. We, therefore, only recite the facts necessary to understand the issues on appeal here.
Unfortunately, the referenced merits decision was issued under seal and so cannot be referenced as suggested by the appellate panel.

In the lawsuit, Balsam sued Frontgate for infringing its patents covering an artificial Christmas tree. Frontgate brought-in the manufacturer UCP for indemnification. Balsam then settled with Frontgate (without notifying UCP) and in a manner that left UCP liable for infringement. The confidential information is apparently related to the settlement between Balsam and Frontgate whose contents were designated as "Highly Confidential – Outside Attorneys' Eyes Only" in the district court litigation.  In its briefing, Balsam identified the settlement terms as "highly confidential, sensitive information."
The Federal Circuit has asked the parties to "show cause" as to why the under seal opinion should remain under seal with briefing due by October 3. The Federal Circuit has a particular rule limiting confidential marking to 15-words.  Fed. Cir. R. 28(d)(1). "A party seeking to mark confidential more than fifteen words in any brief must file a motion with this court establishing that the additional confidentiality markings are appropriate and necessary pursuant to a statute, administrative regulation, or court rule."  Id.
I have included the redacted sections from UCP's brief (BELOW) and I really can't see how it can only be 15 words that are redacted. Note that the rule does allow for "repeating the marked words" without recounting. But, there are more than 15 lines of text marked confidential with usual average of 10+ words per line.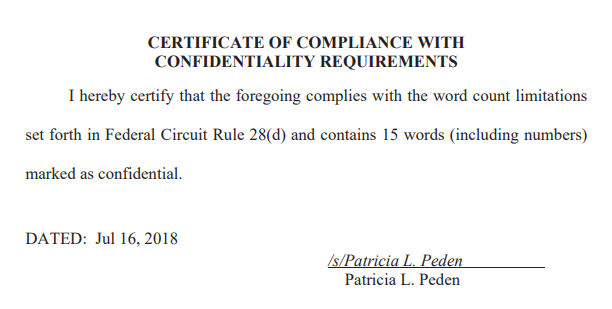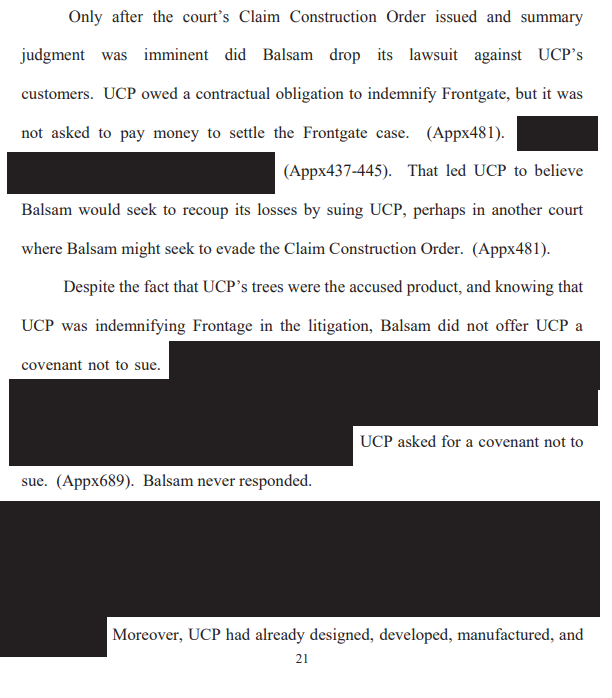 . . .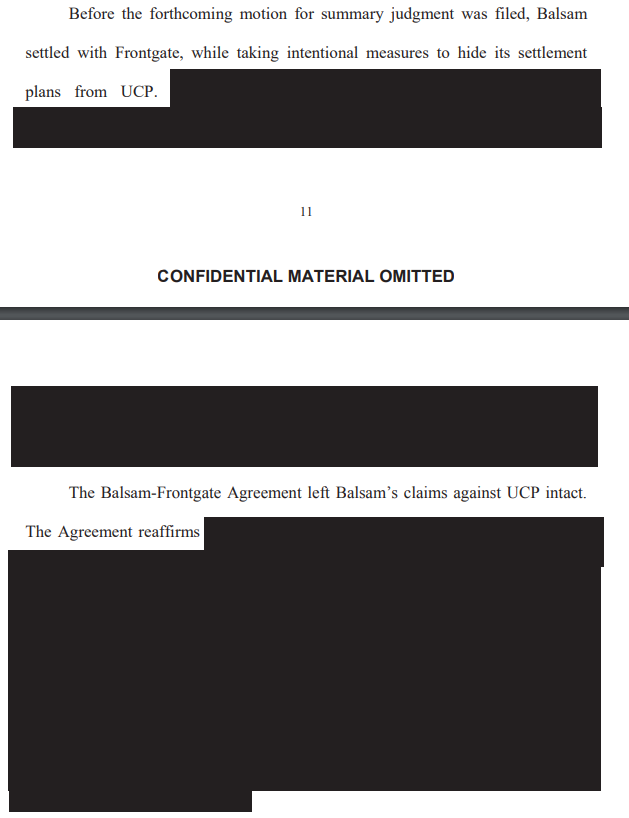 . . .