by Dennis Crouch
Earlier this week, the jury returned with an interesting verdict in PPS DATA, LLC v. Jack Henry & Associates, Inc. (E.D. Tex. Sept 2019).  In the case, PPS sued Jack Henry for infringing its patented method of centrally processing remotely deposited checks.  The defendant argued that the claims improperly encompassed an abstract idea.  However, following Berkheimer, refused invalidate the claims on summary judgment — finding genuine disputes of material fact:
Having considered the § 101 Motion, the Court finds it should be and hereby is DENIED. The Court finds that there are genuine disputes of material fact with respect to whether "the claim limitations involve more than performance of 'well-understood, routine, and conventional activities previously known to the industry.'" Berkheimer v. HP Inc., 881 F.3d 1360, 1367 (Fed. Cir. 2018) (quoting Alice Corp. v. CLS Bank Int'l, 573 U.S. 208, 224 (2014)).
Those disputed facts were then put on trial and given to the jury to decide. The verdict particularly asked whether the asserted claims "ONLY involve activities that were well-understood, routine, and conventional" as of the application's priority date.  The verdict – reproduced below – sided with the defendant in finding that the claims were only directed to such non-inventive elements.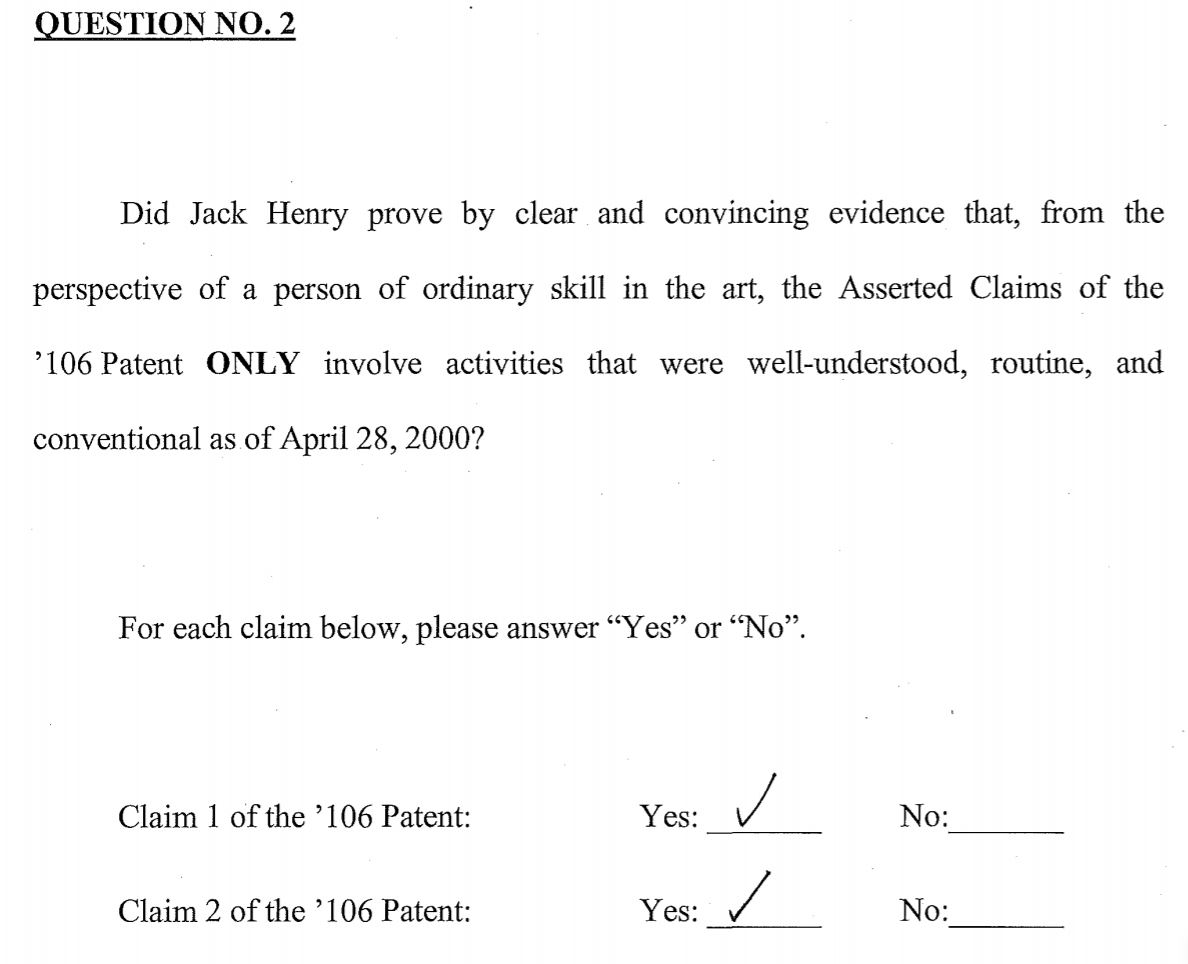 The jury also sided with the defendant on infringement — finding none.
With that verdict in hand, Judge Gilstrap has already issued a final judgment in the case — finding (1) no infringement; and (2) that the asserted claims are "invalid for being directed to patent-ineligible subject matter."