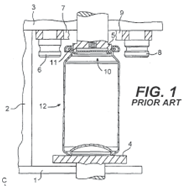 Crown Packaging v. Rexam Beverage Can (Fed. Cir. 2009)
On summary judgment, the district court held that Rexam did not infringe Crown's patent beverage can-top patent. The lower court also found that that Crown did not infringe Rexam's beverage can "necking" patent. On appeal, the Federal Circuit reversed both rulings.
The Doctrine of Equivalents: Over the past two decades, the doctrine of equivalents been pushed out of the usual infringement discussion. Part of the doctrine's downgrade is due to restricted application due to prosecution history estoppel (Festo) and tighter doctrine (Warner-Jenkinson). Perhaps equally important in the decline of the DOE has been the rise of claim construction as the primary variable of patent litigation. Rather than arguing for infringement as an equivalent, applicants are instead arguing for broad construction of the claim terms. Finally, patent drafters are – on average – better today than they were twenty years ago and spend more energy on considering how to draft claims that capture literal infringement. In a 2007 paper, Professors Lemley and Allison found something similar – that since the late 1990's (even before Festo), that "equivalents claims usually failed, most often on summary judgment." Their paper title – "Demise of the Doctrine of Equivalents" – overstates its case. The DOE is sometimes valuable.
Function-Way-Result Test: There are at least two alternate tests for infringement under the doctrine of equivalents. The function-way-result test considers "on a limitation by limitation basis" whether "the accused product performs substantially the same function in substantially the same way with substantially the same result as each claim limitation of the patented product."
Summary Judgment on DOE: Here, the issue was not so much the law of the DOE, but rather the requirement for summary judgment that there be no remaining material issue of fact. Crown's patent claims an "annular reinforcing bead," while Rexam's product uses a reinforcing fold. The lower court found those different enough to avoid infringement under the DOE. On appeal, however, the Federal Circuit reversed – finding at least one unresolved material issue of fact that precluded summary judgment. DOE requires expert testimony to step through the function-way-result test. And, here, the patentee's expert stepped through each element and his testimony had not been completely indicted or even refuted.
Because Crown provided evidence in support of its position that the annular reinforcing bead of claim 14 of the '826 patent had only one function, and because we must resolve any reasonable factual inferences in favor of the nonmoving party, we conclude that there is a material issue of fact regarding the function of the claimed bead. Accordingly, we reverse and remand the district court's grant of summary judgment of noninfringement.
This decision by Judge Moore is in line with the court's 2008 Voda case which was affirmed after parsing expert testimony to ensure that the elements had been properly proven. (In Voda, the court used the alternative "insubstantial difference" test.)
Unmarked Sales by Licensee: In a scenario reminiscent of the recent Quanta v. LG case, Rexam licensed its patents to Belvac to make "neckers" used to stretch out the top of the can bodies. Under the license, Belvac was required "to notify its customers that they would require a separate license from Rexam to perform the smooth die necking method" that is claimed in Rexam's patents. The license did not require Belvac to mark the machines that it sold. And, in fact, Belvac did not mark them with the Rexam patent number. Crown then used the machine to make over one hundred billion cans.
Marking under 35 U.S.C. § 287(a): The district court found that this past infringement was not actionable because Crown was not on notice of the patent. That decision seemingly follows from 35 U.S.C. § 287(a). Under that provision, a patentee who does not properly mark a patented article "is not entitled to damages for infringement prior to actual notice." (quoting CAFC decision).
Marking of Method Claims: Rexam's trick here was to assert only method claims. On its face, Section 287 applies to "any patented article," and Federal Circuit precedent has clearly stated that the marking requirement does not apply when only method claims are asserted. With palpable regret, Judge Moore writes:
"The law is clear that the notice provisions of § 287 do not apply where the patent is directed to a process or method. Bandag, Inc. v. Gerrard Tire Co., 704 F.2d 1578, 1581 (Fed. Cir. 1983). In Hanson, 718 F.2d 1075 (Fed. Cir. 1983)—we held that 35 U.S.C. § 287(a) did not apply where the patentee only asserted the method claims of a patent which included both method and apparatus claims. Hanson is factually identical to this case, and we are therefore bound by the rule of Hanson."
Thus the patentee is free to claim damages back six years under Section 286 even without marking or providing actual notice. This decision thus provides an additional reason to include method claims in a patent application. Now, it would be improper to conclude that there is no reason to mark products that perform method claims. In the 1993 American Medical Systems case, the Federal Circuit ruled that marking would be required if "both apparatus and method claims" were asserted and there is a "tangible item to mark." In this case, the patent claimed both a method and apparatus, but Rexam sued only on the method claims.