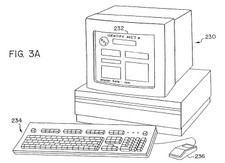 EON-Net v. Flagstar Bancorp (Fed. Cir. 07-1132) (non-precedential)
In 2006, the Washington State district court granted summary judgment of non-infringement in Flagstar's favor. The court also applied sanctions against the patentee's attorneys – a NYC class action boutique — for filing the "baseless" litigation. [link]
Sua Sponte Summary Judgment: A summary judgment motion for non-infringement must at least point to "specific ways in which the accused system [does] not meet the claim limitations." (Exigent Technology). Without at least that threshold level of information, the court must reject such a motion.
Here, the court issued its summary judgment decision on sua sponte grounds (i.e., using grounds that had not been particularly raised in the SJ motion). Because EON did not have an opportunity to respond, the CAFC vacated and remanded.
"The district court should have given Eon-Net an opportunity to fully present its arguments on these issues, even if the district court ultimately would have reached the same conclusion. We have previously held that where a district court construes a patent without following the necessary steps, we should remand the matter for further proceedings so that the district court can follow the appropriate steps."
Sanctions: Normally, an attorney is required to perform a "reasonable pre-filing inquiry" that includes an infringement analysis prior to filing a patent infringement complaint. Here, the district court sanctioned Eon's counsel for not performing such an inquiry.
In a major exception to the inquiry requirement, however, "an attorney may not be sanctioned solely for failing to conduct a reasonable inquiry as long as the complaint is well-founded." Of course, in patent cases, a patent claim can rarely be deemed unfounded prior to claim construction.
"[W]ithout a full claim construction analysis it is impossible to assess whether Eon-Net's claim construction was unrealistic."
Furthermore, the "mere fact" that EON sent identical complaints to dozens of other companies is insufficient to establish that the complaint was filed for a sanctionable "improper purpose."