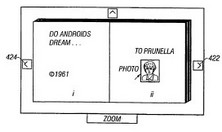 Patent Attorney and Inventor Scott Harris is at the center of an interesting web of events. Harris is the inventor of dozens of patents and has successfully licensed those patents with the help of the plaintiff's firm Niro Scavone. Until last month, Harris was also a principal at Fish & Richardson. Illinois Computer Research (ICR), a recent assignee of a Harris patent, is suing both Google (for patent infringement) and Fish & Richardson (for tortious interference, etc.).
For its part, Fish & Richardson allegedly claims title to the Harris patent – which was apparently invented while Harris was working at Fish.
In the lawsuit, ICR has asserted that Google infringes its US Patent No. 7,111,252. The patent at issue here apparently covers features for improving the look and feel of the internet — Google's Book Search is the accused product. According to Information Week, this is at least the fifth patent lawsuit filed against Google in 2007. (Meanwhile Google stock …).
Two other Harris patents have also recently been asserted: See BarTex v. FedEx and Memory Control v. Honda, LG, Motorola, et al. Harris patents have also been asserted against Dell, GM, Panasonic, Kodak, cars.com, and move.com. Joe Mullin of the Daily Journal reports that Harris denies any involvement in the ownership or management of any of these companies. The owner instead is James Beauregard Parker — a member of the Florida Bar since 2005.
Short Article Request: In the wake if this case, I would like to post a short (600 word) article on determining an employee's inventorship rights. This article might think about the default rule absent an employee agreement; may an agreement to assign implied; how does patent law differ from copyright work for hire.