Faegre Baker Daniels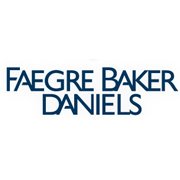 in Fort Wayne has a position open for an IP Associate. Candidates should possess excellent academic credentials with a preferred undergraduate degree in Chemical, Electrical or Mechanical Engineering, Physics or Chemistry and up to five years of experience in prosecuting patent applications in the fields of electrical or mechanical engineering. Practice includes all phases of intellectual property for a national and international client base. Competitive salary and unlimted potential for professional growth.
Contact:
Send resume in confidence to:
Julie Kyler, Business Manager
Faegre Baker Daniels
111 East Wayne Street, Suite 800
Fort Wayne, IN 46802
or e-mail to julie.kyler@faegrebd.com.
Additional Info:
Employer Type: Law Firm
Job Location: Fort Wayne, Indiana