Quarles & Brady LLP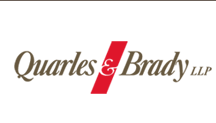 is a national law firm with over 430 attorneys and offices in Chicago, Illinois; Madison and Milwaukee, Wisconsin; Phoenix and Tucson, Arizona; and Naples and Tampa, Florida, Washington D.C and Shanghai, China. Our Intellectual Property practice is one of the most diverse and sophisticated practices in the nation.
Our Phoenix, Arizona office is seeking a patent agent with a minimum of a Bachelors of Science in Electrical Engineering or Mechanical Engineering, or an associate with one to five years experience who has a successful academic record, strong writing skills, strong attention to detail, and at least two years experience drafting and prosecuting patent applications. Experience in microfluidics would be a plus. The successful candidate must be extremely motivated and have the skills, enthusiasm, personality, and commitment to succeed.
Quarles & Brady LLP is an equal employment opportunity/affirmative action employer.
Qualified applicants should submit a resume, cover letter, transcripts, and two writing samples of a brief or a significant memo online.
Contact: Apply online by visiting: https://applyonline.quarles.com/virecruitselfapply/redefault.aspx.
Additional Info:
Employer Type: Law Firm
Job Location: Phoenix, Arizona