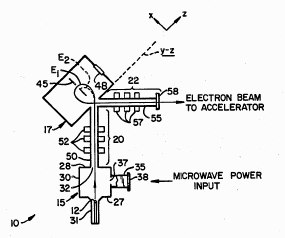 Madey v. Duke University (M.D.N.C. Sept 20, 2004) (97CV01170).
Before arriving at Duke as a professor, Dr. Madey obtained several patents for microwave electric guns for use in free electron studies. (E.g., Patent 4,641,103). After Duke & Madey had a falling out, and the professor left the university.
Dr. Madley now asserts in a patent infringement suit that Duke continued to use his patented technology without license.
Duke requested summary judgment based on the experimental use defense. Duke contended that its use of the plaintiff's patents was done "for the sole purpose of gratifying a philosophical taste, or curiosity, or for mere amusement," and thus, that the use was experimental.
The court held that 1) the burden of proof for experimental use lies with the accused infringer, in this case Duke; and 2) the defense of experimental use cannot be applied to this case simply because the invention is used in a lab. "Duke [failed to establish] that its alleged use of Plaintiff's patented inventions was not in keeping with its legitimate business as an educational institution but was instead solely for amusement, . . ."