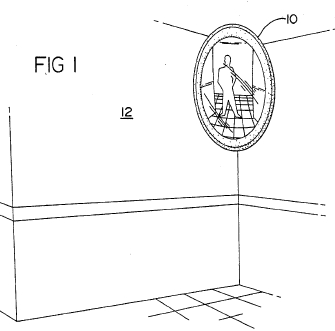 Rosco, Inc. v. Mirror Lite Company (Fed. Cir. 2005).
Rosco and Mirror Lite are competitors in the school bus mirror market. Rosco sought a declaratory judgment that Mirror Lite's mirror patent was invalid, and Mirror Lite counterclaimed for infringement of the patent.
Rosco argued that prior to the date of invention, it conceived, reduced to practice, and sold mirrors as in the patent, thus rendering the patent invalid under 35 U.S.C § 102(a) (e.g., known or used by others). The trial court held the patent invalid. However, on appeal, the Fed. Cir. found that testimonial evidence of invalidity must be corroborated.
Weight of the Evidence: The trial court relied upon two pieces of evidence, other than Rosco's testimony, to find that Exhibit 110, an example of the alleged prior art mirror, disclosed a decreasing radius of curvature as in the patent: testimony of Rosco's patent expert (indicating that Rosco demonstrated to him Exhibit 110's decreasing radius of curvature), and the court's own inspection of the mirror. The Fed. Cir. held that none of this evidence provided sufficient corroboration that Exhibit 110 had a decreasing radius of curvature because both the district court and the patent expert were not skilled in the mirror arts. Thus, the Fed. Cir. found no basis for a finding of invalidity.
Inequitable Conduct: On the issue of inequitable conduct, the trial court held that Mirror Lite intended to mislead the examiner by failing to disclose Trial Exhibit EC, a prior art oval Mirror Lite mirror that existed more than one year prior to the patent's priority date. However, the Fed. Cir. held that "[a]n applicant's conduct in its entirety must 'manifest a sufficiently culpable state of mind to warrant a determination that it was inequitable.'" The Exhibit was not so undisputedly material that intent could be inferred from materiality. Thus, there must be other evidence supporting a finding of intent. The district court found that Mirror Lite's use of terms inconsistently in other patents having the same inventor suggested the requisite intent. The Fed. Cir. held that use of terms inconsistently (one way in the earlier patents and one way in testimony) does not render testimony deceptive, given admission in the testimony that terms could have two meanings. Thus, the Fed. Cir. reversed the judgment of inequitable conduct.
The case was remanded for further proceedings solely on the issue of infringement.
Joseph Herndon is a law clerk and at MBHB and is a registered patent agent. Joe has a stellar background in electrical engineering and will graduate from law school this year. herndon@mbhb.com.