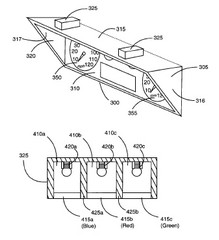 The Chicago Tribune (Jim Mateja) is reporting that Ford has settled a patent infringement action initiated by individual inventor, Frank Weyer. In the suit, Weyer accused Ford of infringing his patent that covers a "user selectable multi-color automobile instrument panel illumination." (Patent No. 5,975,728).
Ford's new 2005 Mustang had planned to include a MyColor feature that reportedly infringes. According to the Tribune, "Ford had been barred from offering its My Color option or delivering cars with it because of the suit, but now can start sales and shipments."
In addition to being an inventor, Weyer is a patent attorney with an office in Beverly Hills, California. In an earlier lawsuit, Weyer sued Network Solutions and Register.com for violating their patent on the selection of an e-mail address based on a domain name. www.whois.sc/news/2004-01/registrars-sued.html. He also spent time coordinating the rural technology unit of the Peace Corps.