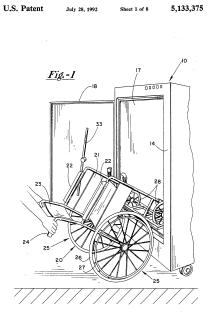 Schinzing v. Mid-States Stainless (8th Cir. 2005)
Schinzing sued Mid-State in Minnesota state court alleging breach of a license agreement for Mid-State' failure to pay royalties due for its wheel-chair washing machine products. Mid-State removed the case to federal court and raised a number of affirmative defenses and counterclaims, including patent invalidity and non-infringement. After a bench trial, the district court found that the license had been breached and that the patents were not invalid.
The appeal was taken-up by the Eighth Circuit Court of Appeals because the patent issues were raised in a counterclaim rather than in the properly pled complaint.
Basing its decision on Federal Circuit law, the Eighth Circuit panel found that the court had failed to apply an element-by-element comparison of the patent claims to the prior art references presented at trial.
We note that on remand the district court's comparison of the '375 patent to the device described in [prior art] should reflect the Federal Circuit's observation that 35 U.S.C. § 102(b) may bar patentability by anticipation if the earlier device includes every limitation of the later claimed invention, or by obviousness if the differences between the claimed invention and the earlier device would have been obvious to one of ordinary skill in the art. Netscape Communications Corp. v. Konrad, 295 F.3d 1315, 1321 (Fed. Cir. 2002).
Remanded.