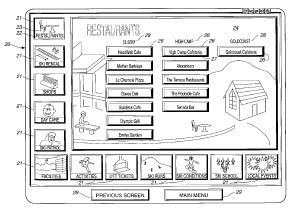 Datamize v. Plumtree Software (Fed. Cir. 2005)
The CAFC has affirmed a district court's summary judgment of invalidity — finding that the claim term "aesthetically pleasing" to be indefinite under the second paragraph of 35 U.S.C. § 112.
Section 112 provides that the "specification shall conclude with one or more claims particularly pointing out and distinctly claiming the subject matter which the applicant regards as his invention."
Generally, the court warns against applying the indefiniteness provision to invalidate a patent.
If the meaning of the claim is discernible, even though the task may be formidable and the conclusion may be one over which reasonable persons will disagree, we have held the claim sufficiently clear to avoid invalidity on indefiniteness grounds.
However, the Appellate Panel found that Datamize's arguments "fail to persuade [the Court] that 'aesthetically pleasing' can be given any reasonable meaning.
Affirmed — "Aesthetically pleasing," as used in the independent claim, fails to "particularly point out and distinctly claim the subject matter which the patentee regards as his invention.