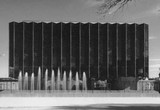 The Court of Appeals for the Federal Circuit (CAFC) has announced that it will be "Sitting in Chicago, Illinois" for the week of November 8, 2005 — providing a great opportunity for students and practitioners who rarely get to see the CAFC in action.
Schedule (CAFC patent cases):
Tuesday, November 8, 2005, 2:00 P.M.,
DePaul Law
05-1113 VIAD CORP V STAK DESIGN
Wednesday, November 9, 2005, 10:00 A.M., U.S. District Court
05-1122 OMEGA ENGINEERING V RAYTEK CORP
Wednesday, November 9, 2005, 2:00 P.M.,
Chicago-Kent Law
05-1126 GRAYZEL V ST. JUDE MEDICAL
Thursday, November 10, 2005, 10:00 A.M.,
Northwestern Law
05-1144 HARRAH'S V STATION CASINOS
I expect that each venue will have a good crowd. While all of these are "open to the public," some will be more "open" than others and may require advanced seating.
As we move forward, I will provide more of a preview of these cases. Please let me know if you have information regarding either the hearing or the cases.
Dennis
312.913.3316