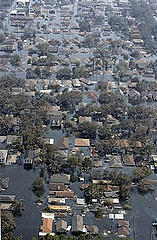 Over the past two weeks, my family's thoughts and prayers have been going out to the people of New Orleans. I have many relatives in Mississippi and Alabama, but they are lucky to live far enough north to have avoided the brunt of the storm. There are a number of ways to help those who were not so fortunate. One easy action is send a check to a relief organization. My firm, MBHB is matching employee donations and will be sending a chunk of funds to the McCormick Tribune Foundation here in Chicago.
The AIPLA has set up an assistance page to help in the recovery effort. So far, a number of law firms (both large and small) have offered to give free office space, assistance in brief filing, and free tuition to law school for displaced IP attorneys and law students. Lets hope this spirit of generosity continues.
The ABA also has set up Hurricane Katrina Disaster Relief pages for the attorneys, law offices, and many others needing legal assistance who have been caught in the catastrophic effects of Hurricane Katrina. [see Patent Baristas].
– Dennis
[N.O. Flood Photo by LarryDowning]