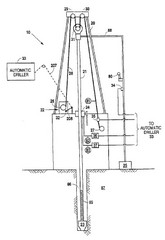 Varco v. Pason Systems (Fed. Cir. 2006).
In a case involving oil and gas drilling equipment, the district court refused to grant the patentee a preliminary injunction. Varco appealed claim construction.
Specifically, because the specification states that selected regulators 200-203 must be manually calibrated before use, the district court concluded the "selecting" step recited in the asserted claim requires manual calibration.
On appeal, the CAFC determined that the court's construction was too narrow — and that it had impermissibly imported limitations into the claims. In its decision, the appellate panel pointed to the preamble of the claim that indicated that it was a method for "automatically" regulating the drilling equipment. Based on this and other tidbits pulled from the prosecution history, the court found that manual calibration was not required.
Vacated.
Note: This case brings home a point I made in my talk at the AIPLA winter meeting last week. Specifically, courts should be wary of overshooting the instructions of Phillips. Notably, even though claims are interpreted in light of the specification, special care should be taken to avoid importing limitations from the claims.