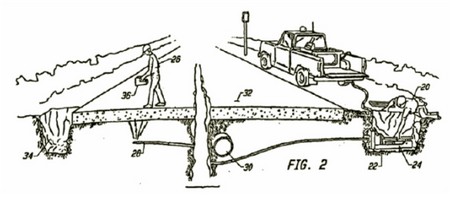 Digital Control (DCI) v. Charles Machine Works (aka DitchWitch) (Fed. Cir. 2006).
By Mark Chael,
DCI appealed the lower courts' decision that its patents were unenforceable for inequitable conduct. DCI's three asserted patents involve Horizontal Directional Drilling, which enables the creation of horizontal holes in the ground through with utility lines can be placed by allowing a worker to locate and/or orient the boring tool as it moves through the ground.
The district court previously awarded partial summary judgment to DitchWitch finding that there was no genuine issue of material fact that misstatements and omissions made by the inventor during prosecution of the patents were material. After a bench trial, the lower court held that the misstatements and omissions were made with intent to deceive and the level of materiality and inference of intent were both high. Thus, the lower court held that the patents were unenforceable.
The CAFC, however, held there were genuine issue of material fact regarding the materiality of the inventor's failure to disclose prior art. The CAFC thus vacated the district court's ruling that the patents were unenforceable and remanded for further proceedings regarding the materiality of the failure to disclose prior art.
Before reviewing the lower court's determination that DitchWitch was entitled to summary judgment on the issue of materiality, the CAFC addressed the proper standard for determining whether a misstatement by omission is material. What follows in the text of the opinion is a comprehensive, yet succinct, summary of the development and current standing of the law of inequitable conduct and material misrepresentation, in view of the Patent Office's amendment of Rule 56 (duty of candor and good faith / duty of disclosure). This panel followed the "reasonable examiner" materiality standard of old Rule 56, which "new Rule 56 was not intended to replace or supplant."
Dr. Mark Chael's prior research in biochemistry, molecular biology, and cellular biology make him well equipped to understand the intricacies involved in biotech and pharmaceutical patents. He is an associate at the intellectual property law firm McDonnell Boehnen Hulbert & Berghoff in Chicago.
Links: