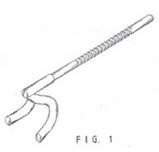 Lawman Armor v. Winner Int'l (Fed. Cir. 2006, 05–1253).
To show infringement, a design patent holder must satisfy two separate tests: (a) the 'ordinary observer' test and (b) the 'point of novelty' test.
The "ordinary observer" test requires comparison of the two designs from the viewpoint of the ordinary observer to "determine whether the patented design as a whole is substantially the same as the accused design."

Under the "point of novelty" test, a court must determine whether "the accused device . . . appropriate[s] the novelty in the patented device which distinguishes it from the prior art."
Regarding points of novelty — Lawman pointed to eight specific points of novelty of its patented design for the sliding hook portion of a vehicle lock. On summary judgment, the district court found that all eight points of novelty could be found in a combination of prior art references. As a consequence, the lower court ruled that the patent was not infringed.
Lawman appealed, arguing that there was no suggestion to combine the references in the art. The CAFC, however, affirmed, finding that, for the point of novelty test, multiple references can be combined without any prior suggestion or motivation for doing so.
What Lawman's contention comes down to is that the D'621 patent contains a ninth "point of novelty," namely, the combination in a single design of the eight non-novel "points of novelty" it embodies. This argument is inconsistent with, and would seriously undermine, the rationale of the "points of novelty" test.