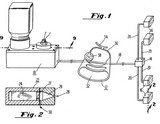 Illinois Tool Works v. Independent Ink (2006, 04-1329)
By Israel Encinosa
In an 8-0 decision (Justice Alito took no part), the United States Supreme Court has reversed the Federal Circuit's decision in Illinois Tool Works, Inc. et al. v. Independent Ink, Inc., and expressly overruled some of its own prior rulings, holding that the mere fact that a tying product is patented does not support a presumption of market power.
The Court characterized the question before it as "whether the presumption of market power in a patented product should survive as a matter of antitrust law despite its demise in patent law." The Court noted that the presumption that a patent confers market power originally arose outside the antitrust context as part of the patent misuse doctrine, and migrated to antitrust law in International Salt Co. v. United States, 332 U.S. 392, and its progeny. The Court further noted that while Congress continually chipped away at the presumption, ultimately amending the Patent Code to eliminate the presumption in the patent misuse context, the Court's antitrust jurisprudence, in contrast, continued to rely on it.
Today's decision marks a decisive shift in the Court's antitrust jurisprudence as the Court clearly rejected the presumption of per se illegality of tying arrangements involving patented products. The Court ruled that "any conclusion that an arrangement is unlawful must be supported by proof of power in the relevant market rather than by a mere presumption thereof," and moreover, that "because a patent does not necessarily confer market power upon the patentee, in all cases involving a tying arrangement, the plaintiff must prove that the defendant has market power in the tying product."
In addition to rejecting the per se rule, the Court also declined respondent's invitation to "endorse a rebuttable presumption that patentees possess market power when they condition the purchase of the patented product on an agreement to buy unpatented goods exclusively from the patentee."
NOTE: Israel Encinosa is an attorney at Kirkland & Ellis where he focuses his energy on antitrust law and commercial litigation. He graduated from the University of Chicago Law School.