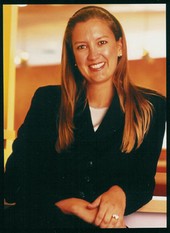 In January 2006, Judge Clevenger took senior status at the Court of Appeals for the Federal Circuit — leaving one open spot in the panel of twelve. There is a strong rumor that Professor Kimberly Moore will be appointed to fill the spot.
Other potential candidates include at least Judge Whyte and Professor John Duffy.
Professor Moore has long been considered one of the handful of leading patent law professors, and is especially noted for her empirical research methods. In addition, Moore is co-author of a book on patent litigation along with CAFC Chief Judge Michel and Raphael Lupo and is the Editor-in-Chief of the Federal Circuit Bar Journal.
Although not a registered patent attorney, Moore holds a BS and MS from MIT in electrical engineering. Her masters thesis focused on chaos theory applied to electrical systems. She received her JD from Georgetown. Moore has been teaching law since completing her clerkship with Judge Archer. Most recently, the PTO has asserted Moore's article titled "Ending Abuse of Patent Continuations" as a justification for its proposed changes to continuation practice. She also has trial experience from her time with Kirkland & Ellis.
I commented yesterday to a reporter my belief that Professor Moore is an obvious choice and would make an excellent judge.
John Duffy, whose name has also been mentioned, believes that Professor Moore would be an "outstanding nominee." According to Professor Duffy, "Professor Moore has spent a large portion of her career carefully studying the judicial process of patent litigation, and she has become a leading authority in the field. She would bring extraordinary knowledge and insight to the bench. Her nomination would, I think, command broad support from the academy and the practicing bar."
According to a cite on IPBiz, Professor Moore testified to Congress that the high reversal rate in patent cases ""undermines confidence in district-court decision making."