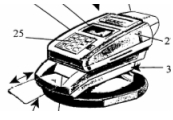 Exigent Technology, Inc. v. Atrana Solutions, Inc. (Fed. Cir. 2006, 05–1338).
By Marcus Thymian
In its March 22 decision, the Federal Circuit affirmed a district court's grant of summary judgment of non-infringement of the claims of a patent relating to a "multi-function transaction processing system." Unlike many appeals involving summary judgments of non-infringement, this opinion did not focus on claim construction or application of the claims to the accused device. Instead, the interesting issue was whether the accused infringer had provided sufficient support in its 12-page summary judgment motion.
At trial, the burden of proving infringement is on the patent holder. Here, the accused infringer moved for summary judgment of non-infringement. In a motion for summary judgment, the burden is initially on the movant (the accused infringer in this case) to show that there is no genuine issue of material fact and that the moving party is entitled to a judgment as a matter of law. Thus, there would appear to be competing burdens, a concept with which courts have sometimes struggled.
In explaining the conflict and finding resolution in this case, the Federal Circuit dedicated much of its opinion to the Supreme Court's 1986 Celotex v. Catrett decision. Most importantly, on issues in which the nonmovant bears the burden, "the [summary judgment] movant need not 'produce evidence' showing the absence of a genuine issue of material fact in order to properly support its summary judgment motion." Basically, the party moving for summary judgment needs to show that "there is an absence of evidence to support the nonmoving party's case." In this case, that showing took the form of a 12-page summary judgment motion (that also addressed invalidity and unenforceability), along with a declaration by the accused company's CEO stating that none of the accused products contained certain claim limitations. The Federal Circuit stated that "nothing more is required than the filing of a summary judgment motion stating that the patentee had no evidence of infringement and pointing to the specific ways in which accused systems did not meet the claim limitations."
Marcus Thymian is a partner at McDonnell Boehnen Hulbert & Berghoff LLP in Chicago. Much of his recent practice has involved counseling clients on pretrial litigation strategies, including seeking and defending against motions for summary judgment. [link to bio]