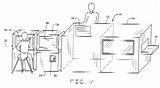 On Demand Machine v. Ingram and Amazon.com (Fed. Cir. 2006, 05–1074).
The district court found Ingram and Amazon.com liable for infringement of On Demand's patented on-demand book printing system. The defendants appealed on claim construction.
The CAFC disagreed with the lower court on many points of claim construction. Interestingly, for the second time in as many weeks, an appellate panel found that the preamble of a claim was limiting. Here the preamble was written as follows:
8. A method of high speed manufacture of a single copy of a book comprising . . .
According to the court, high speed manufacture of a single copy is "fundamental" to the invention because "the specification highlights that the customer may have a printed and bound copy within "three to five minutes." Here, the defendants can avoid infringement because the customer must wait a week to get their copy of the book.
Notes:
. . . From a Reader:
This CAFC decision should be of considerable interest to the book publishing, printing and distributing industries for several reasons.
First, this is a decision against a "print on demand" book printing patent of general industry interest, as evidenced by a pending SECOND adverse reexamination against it. This second reexamination is not even mentioned in this decision, only the first one is. Yet some of this Court's comments about prior art, etc. may become relevant in this pending second reexamination?
On another matter, of general patent litigation interest, the Court says: "The court's award of a royalty-bearing license during appeal and refusal to issue an immediate injunction are reviewed on the standard of abuse of discretion." [emphasis added]
Later on, in its Conclusion, the Court merely adds: "The cross-appeal relates to the district court's denial of an immediate injunction upon entry of the district court's judgment, and the court's setting of a royalty for continuing operations during appeal. That remedy is within the district court's discretion. However, in view of our holding of non-infringement, the cross-appeal is moot, and is dismissed."
There is no mention of the Sup. Ct. taking of eBay v. MercExchange for decision, in which even the Solicitor's brief criticizes the CAFC for not spelling out the statutory test for granting injunctions. Yet they did it again! – the above is ALL this Panel said on this subject. I.e., even in this latest case, the Court does not cite or discuss the statute, or even the standards for stays of injunction during an appeal. Note that this panel did not approve a stay of an injunction pendant lite here, it merely held this issue to be MOOT, hence the above is mere DICTA.
Finally, this Court's specific non-infringement distinctions should be cautionary for specification and claim drafters to avoid inadvertent or unintended claim scope limitations.