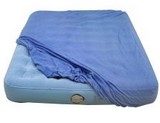 Aero v. Intex and Wal-Mart (Fed. Cir. 2006)
Aero has patented an air mattress inflation control system that it advertises using the registered mark "ONE TOUCH." A jury found that Intex (and Wal-Mart) were infringing both the patent and the trademark. The judge awarded $5.80 million for willful patent infringement ($2.95 in compensation, doubled for willfulness) and $1 million for the trademark infringement.
On appeal, the CAFC looked at the damage award and found some double-counting.
This case presents the question of whether Aero's recovery of both patent and trademark infringement damages represents an impermissible double recovery.
Under Federal Circuit, double recovery for the "same injury" is inappropriate.
At trial, Aero had used similar evidence of Intex sales to show damages for both the patent and trademark claims. Because Aero did not show any other harm to its trademark apart from the sales of the patented product, the CAFC found that the injury was identical, and thus cancelled the trademark recovery.
The case is remanded to the district court for entry of judgment in Aero's favor in the principal amount of $5.9 million. [Still enough for a good night's sleep]