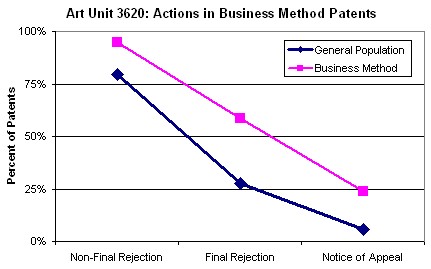 Using a random sample of issued patents examined by the "business method" art units, I counted the number of issued patents that had received non-final and final rejections and also those where the applicant had filed a notice of appeal. The results show that about 95% of business method patents were subject to non-final rejections as compared with about 80% of patents taken from the general population. The differences between the groups for final rejections and appeal notice filings are even greater. The conclusion here is the same as in Part-IV: Business method patent applications receive a higher level of resistance than do other technologies.
This study focuses on business methods, but I'm gathering data for other areas. Any guesses of which technologies have relatively high (or low) rates of rejection before issuance?
Notes:
For the purposes of this study, Business Method Art Unit 3620 includes Art unit 3621–3629.
Patent range from 6,500,000 – 6,999,999.
Sample size 49,905 patents from the general population and 296 patents in the business method category.
There is some selection issues here because we are looking only at issued patents. Presumably, patents that did not issue are even more likely to have been rejected.
Evidence Based Prosecution: