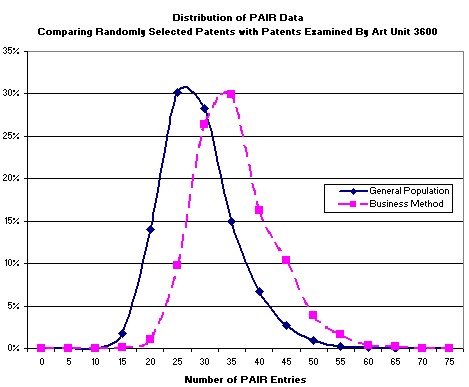 The entries of Public PAIR are riddled with errors and discrepancies. However, it is still true that more PAIR entries in a file usually indicates that there were more filings by the applicant and more resistance from the PTO.
The Data: The above graph compares data from a random sample of 7,000+ issued patents with patent numbers ranging from 6,000,000 to 6,999,999 (General Population) with issued patents from the same range that were examined within Art Unit 3600 (a sample of 954 patents). I counted the number of PAIR entries for each patent and used that data to calculate histogram information. Data-points represent range-buckets — e.g,. 0–4 PAIR entries, 5–9 PAIR entries, …
The Results: The prosecution histories of Business Method patents include significantly more entries. [33.4 entries for average BM patents as opposed to 27.0 for average GP patents].
As I have discussed before, business method patents are slow to make it through the patent office. One reason for the delay is a large queue in applications awaiting initial examination. However, this data preliminarily confirms that another reason for delay in Business Method is that the PTO is putting up a relatively higher level of resistance. Anecdotally, this resistance is seen in the "second pair of eyes" review and harder fights on Section 101 issues. The PTO might counter that many business method patents are poorly drafted, thus making the process more difficult.
Notes:
For the purposes of this study, Business Method Art Unit 3600 includes Art unit 3621–3629 and 3639. [Pre-business method uses of 3600 were excluded].
Evidence Based Prosecution: