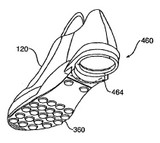 Akeva v. Adidas (Fed. Cir. 2006, NON-PRECEDENTIAL)
Akeva's patent covers shoes with a rear sole "secured" to the heel of the shoe. The patent is clear that the rear sole may be detachable or rotatable. In order to capture Adidas's activity, Akeva also argued that "secured" could mean permanently secured. The court disagreed with that claim construction based on the language of the specification:
the language of the '471 specification specifically states that the invention of the '471 patent is an athletic shoe with a detachable heel: "However, in a radical departure from conventional shoes, the shoe of the present invention incorporates a heel structure, including a detachable rear sole, that significantly alleviates heel wear problems associated with conventional soles and provides enhanced cushioning and/or spring.".
Once again describing the "present invention" resulted in the specification serving to limit the scope of the claim terms. The truth is, however, the seeming requirement of a detachable sole pervades the patent and, in CAFC terminology, was "the scoop of the invention." The "field of the invention," for instance, was written "as athletic shoes with interchangeable/detachable rear soles."
As could be expected, the boilerplate language at the end of the specification was deemed worthless even though the language asserts that the specification is not limiting in any way.
The court did find this case distinguishable from others because the detachable sole is "not one of several features, it is the primary feature of the invention."