Blog technology has turned out to be an extremely powerful way for attorneys to rapidly communicate with with the world. Although powerful, only a small percentage really do it right. I am very proud to present the newest blog emerging from McDonnell Boehnen Hulbert & Berghoff attorneys: Patent Docs. They do it right!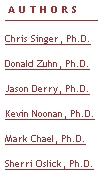 The Authors of "Patent Docs" are patent attorneys and all hold doctorates in a diverse array of biotech and chemical disciplines (hence the name Patent
Docs
). In addition to in-depth case reviews, the site also has a number of useful regular features, including
Biotech News
,
Court Reports
,
PTO Rules Updates
, and
Patent Profiles
.
Check it out!
Blogs by MBHB attorneys: