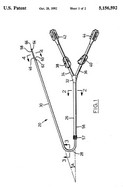 Vas-Cath v. University of Missouri (Fed. Cir. 2006).
Interference proceedings arise when two patent applicants both hope to obtain a patent on the same invention. 35 USC §135. The PTO holds a mini-trial and (usually) grants a patent to the party with priority. This case arose over claims to a dual-lumen catheter used in prolonged hemodialysis.
The University of Missouri filed its patent application first, but Vas-Cath pushed its through the PTO more quickly — resulting in an issued patent. On Missouri's request, the PTO initiated an interference — a process that lasted six years and eventually resulted in all nineteen claims being awarded to the University.
Vas-Cath appealed and the case was heard in the Western District of Missouri. Unfortunately for Vas-Cath, the district court quickly dismissed the case based on Missouri's Eleventh Amendment immunity from suit in federal court. (District Court Decision). Vas-Cath then appealed to the Court of Appeals for the Federal Circuit (CAFC).
11th Amendment Sovereign Immunity: The 11th Amendment, ratified in 1798 provides that:
The Judicial powers of the United States shall not be construed to extend to any suit in law or equity, commenced or prosecuted against one of the United States by Citizens of another State, or by Citizens or Subjects of any Foreign State.
This has been interpreted to provide a state (or a state university) with absolute immunity from an action in federal court unless the immunity is waived or the State's actions violate someone's 14th Amendment due process guarantee. In general, a state's participation in the patenting process does not imply any waiver of immunity.
Here, Vas-Cath argued that the University's request for and participation in the interference constituted waiver, and the CAFC agreed:
[T]he University did not simply procure a patent through the routine of ex parte examination, but requested the PTO to conduct litigation-type activity, obtaining a favorable agency ruling for which the statute authorizes judicial review.
The CAFC found that the University had indeed waived its immunity by voluntarily entering into the litigation-type interference — thus negating its "assertion of immunity to bar appeal of that adjudication."
Notes: