A response to Merges,
By Hal Wegner
Professor Robert P. Merges makes much sense in his op-ed piece, Back to the Shadows, or Onward and Upward? Current Trends in Patent Law. We and thoughtful supporters of the patent system share much common ground. Professor Merges touches on numerous points where there is hardly any significant difference with this writer, including the domestic results of the eBay decision from last year. In his analysis of the Supreme Court, Professor Merges is correct that the Court is generally "pro business", but it is another matter whether in some industries being "pro business" means being "pro-patent".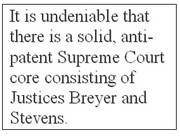 "Pro Business" as Anti-Patent, a new Direction at the Court: Professor Merges is absolutely correct that the Supreme Court today is "pro-business". Whether the majority is pro-patent is possible but not yet conclusively determined: It is too soon to tell. It is undeniable that there is a solid, anti-patent Supreme Court core consisting of Justices Breyer and Stevens. Justice Stevens' anti-patent record reaches back to the mid-1970's and is too well documented to question. Yet, Justice Breyer is apparently now the more enthusiastic anti-patent of the two; they are the only members of the Court in this century to have taken the view that the open door to § 101 patent-eligibility for "living" inventions in the Chakrabarty case should be narrowed, arguing in a dissent in J.E.M. that the utility patent law "does not apply to plants".(1) Just last year, an anti-patent drumbeat manifested in the Breyer dissent from the Metabolite "DIG" (joined by Stevens) plus their joint participation in the Justice Kennedy concurrence in eBay further validates their anti-patent bias. Justice Souter joined both the Metabolite DIG dissent and the Kennedy eBay concurrence, but whether he is truly a solid part of an anti-patent core requires more data points; they may be forthcoming in shortly in KSR and in early Spring in Microsoft. Whether other members of the Court join this core remains to be seen.
Feeding this nascent anti-patent core are two dominant themes: First, while the Supreme Court is pro-business, a major segment of the business community is largely anti-patent, turning the patent system upside down: Under this twisted view of patents, being "anti-patent" may be "pro business". Second, the patent jurisprudence of the Federal Circuit has created and continues to create problems that necessarily fuel further growth of an anti-patent sentiment.
Being Pro-Business today may mean being Anti-Patent: Business interests in the majority of fields do not enforce their patents to obtain or maintain an exclusive patent right; many have a generally negative view of the patent system. (The minority view is found in the pharmaceutical, chemical, biotech and other emerging technologies and amongst small businesses and universities where a patent-based exclusive position is essential to development and exploitation of new technology.)
Many businesses that do not seek an exclusive patent-based position pay a lot of money to create a patent thicket principally for cross-licensing settlements with other manufacturers who would otherwise sue them for infringement. Yet, these patent thickets provide no protection against non-manufacturing patentees who have everything to gain from an infringement litigation and nothing to lose.
Huge awards for non-manufacturing patentees are manifested by the more than half billion dollar numbers in the BlackBerry settlement and the Eolas trial court judgment. The only plus side of the patent picture for this segment of business society is the generation of a nonexclusive royalty stream where an IBM may generate a billion dollars or more in revenue. But, for industry, this is a "patent tax" as it provides no positive benefit in terms of technology transfer or exclusivity. For such business interests, the end to virtually automatic injunctive relief in eBay is a major victory with no apparent downside.
Professor Merges's analysis of eBay is absolutely correct when viewed from a purely domestic standpoint, with one significant exception: The anti-patent drumbeat that comes from the business community to reach the result in eBay necessarily fuels an anti-patent attitude at the Court which must to some extent feel that by being anti-patent it is being pro-business.
The Global Model, < ?xml:namespace prefix ="" st1 />Patent "Mountains" in a Flat World: eBay may work fine from a domestic standpoint, but it represents a total failure internationally by creating a giant patent monkey wrench that threatens to destroy the foundations for global protection of American innovation abroad. This issue is explained in detail in a Northwestern piece, Injunctive Relief: A Charming Betsy Boomerang, 4 Nw. J. Tech. & Intell. Prop. 156 (2006).
All major industries – not just pharmaceuticals, chemicals and biotech – should be carefully crafting global patent strategies to exclude copyists and other competitors from creating "me too" manufacturing industries around the world. In the global arena, patents are needed to create a commercial beachhead in foreign markets and to create exclusive positions in what is otherwise becoming a borderless commercial world – the "flat" world of Thomas L. Friedman. Aggressive pro-active patent procurement strategies can be used for foreign markets to create dominant positions to safeguard foreign markets in the traditional manufacturing industries.
Additionally, the domestic difficulty of defending against "trolls" is largely nonexistent in foreign fora which have safeguards; the foreign laws provide a gauntlet of specialized patent tribunals, both judicial and administrative, to kill troll patents. Japan, for example, since 2004 has a revamped its administrative patent revocation system that commences before a senior board panel that reaches a decision in roughly one year; thereafter, the Intellectual Property High Court is effectively the sole reviewing tribunal. Or, the Tokyo District Court has specialized, hardball divisions that have an extremely low rate of maintaining patents and which also provide rapid justice. Germany boasts its famed Bundespatentgerichtshof in Munich near the German and European Patent Offices; the Bundespatentgerichtshof has exclusive trial jurisdiction over patent validity challenges and similarly dispenses prompt justice.
The manufacturing industries of the United States are largely blind to use of a global patent system to create patent beachheads and exclusive positions in foreign markets. The proof of the pudding is found from Friedman's interviews for his book. This distinguished journalist conducted numerous in depth interviews with large numbers of leading American manufacturers. None of those interviewed by Friedman speaks of the use of patents as a weapon to be used to counter the flat commercial world: The collective failure of the manufacturing industries to use patents to dominate foreign markets and manufacturing is a serious challenge for reforms.
eBay, Undermining the Exclusive Rights Promised by the TRIPS: Absolutely vital to a patent-based strategy to dominate foreign markets is the patent system's promise of exclusivity, including injunctive relief. To the extent that a developing country jurist at the end of an infringement trial is able to weigh equities under its system in an eBay-like manner and determine that it is not "fair" to impose injunctive relief, then the entire model collapses. A very low royalty rate will be assessed against a local manufacturer, tantamount to a compulsory license, without any further sanction. If a system of compulsory licenses results in the major Asian states, then patents become worthless as a way to establish a patent beachhead to create exclusive rights.
The Trade Related Aspects of Intellectual Property – the TRIPS – was created in part to maintain strong, exclusive patent rights precisely to compel nations around the world to issue patents that would be enforced with injunctive relief. This cornerstone feature of the TRIPS is absolutely essential, a cornerstone for the pharmaceutical, chemical and biotech industries. It largely is not, but could be used in foreign markets to obtain exclusivity within other American industries. < ?xml:namespace prefix ="" o />
The contours of TRIPS-based exclusivity are yet to be finally shaped: This will take place in Geneva in mandatory dispute settlement panels of the World Trade Organization when, most likely, a western country challenges an Asian state's compulsory licensing or other eBay-like standard as violating the TRIPS. The first line of defense to such a charge will be one word, eBay! Surely, it will be argued, the United States is TRIPS-compliant as the leading proponent and creator of the TRIPS; hence, if eBay is the law of the United States, it presents a model of TRIPS-compliance for any country to follow.
The Federal Circuit: Professor Merges is quite correct that the Federal Circuit case law has sparked great interest by the Supreme Court. This is clearly a second root cause fueling an anti-patent attitude. Professor Merges is dead on when he says that "[t]he Federal Circuit may well be the 'new Ninth Circuit.' Despite the Federal Circuit's overall success in stabilizing patent law and setting it on a more coherent course, in my opinion the legal rulings of that Circuit often cause unnecessary confusion. Vacillation and variation are well-recognized in a number of important areas: claim construction, the 'written description' requirement, means-plus-function claims, inherency, and product-by-process claims, just to name a few." Whether styled as "vacillation and variation" or a balkanized body of conflicting and confusing precedent, the Federal Circuit has indeed contributed to the anti-patent sentiment at the Court.
The Duffy Ultimate Solution to Dilute the Federal Circuit: Whether the extreme proposal of Professor John F. Duffy to create two parallel courts of appeal for review of patents is necessary or practical is probably rendered moot by the realities of the legislative process. More importantly, by the end of 2012 at the latest, the Court will be manned by Chief Judge Rader joined by future Chief Judges Prost and Moore – and a combination of up to nine new judges and senior-eligible current members of the court who have not chosen to take senior status. The better use of resources to reform the system should be focused upon compelling the President to appoint a mix of District Court judges, senior patent litigators and serious patent academics to fill these nine appointments: Never in the history of the court has a District Court judge been elevated to the Federal Circuit.
There is much more than can and must be said about the Federal Circuit, which will be found in "What's Up with the Supreme Court?", a paper being prepared for the February 20, 2007, program, Federal Circuit Judges Come to California.
There are many other excellent points in Professor Merges's piece which need a response which will be made in due course. Professor Merges sums up: "[W]e do … both share an important fundamental belief in the viability and continuing potential of the patent system.… We need to continue to work with the Court, and with each other, in the good faith belief that we are all engaged in a worthy common enterprise." Indeed.
(1) J.E.M. Ag Supply, Inc. v. Pioneer Hi-Bred Intern., Inc., 534 U.S. 124, 156 (2001)(Breyer, J., joined by Stevens, J., dissenting).