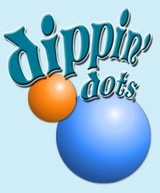 Dippin' Dots v. Mosey and Dots of Fun (Fed. Cir. 2007). [CORRECTED VERSION]
Everyone should remember their first experience with Dippin' Dots. I was in Branson at Silver Dollar City. DD owns a patent covering its method of freezing, storing, and serving beads of delicious ice cream.
Several of DD's distributors decided to go a cheaper route. They cancelled their orders with DD and found an alternative source. DD sued for patent infringement. The defendants counterclaimed with Walker Process antitrust claims based on DD's enforcement of a "fraudulently acquired patent." The antitrust claim was based on the inventor's pre-filing use of the invention that had not been disclosed to the PTO.
The patent was found obvious and DD, the patentee, was held liable for antitrust violations.
Comprising the steps of: The accused products included a diversity of shapes of ice cream pellets — some spherical and others irregular. DD made two infringement arguments based on its claim language of "comprising the steps of . . . beads . . ." DD's first argument, that all the pellets, regardless of shape, are beads was shot-down by the appellate panel who decided beads must be "spherical" based on limitations explicitly written in the specification. (In this case, the addition of silly wiggle language would have likely saved the day — especially since the drawing being described did not show spherical beads.)
DD's second argument, that the "comprising" transition allows for infringement based on the accused spherical beads regardless of the existence of irregular pellets was also shot-down.
"As to DDI's second argument, we acknowledge that the term "comprising" raises a presumption that the list of elements is nonexclusive. See Genentech (Fed. Cir. 1997). However, "'[c]omprising' is not a weasel word with which to abrogate claim limitations." Spectrum (Fed. Cir. 1998). "Comprising" appears at the beginning of the claim—"comprising the steps of"—and indicates here that an infringing process could practice other steps in addition to the ones mentioned. Those six enumerated steps must, however, all be practiced as recited in the claim for a process to infringe. The presumption raised by the term "comprising" does not reach into each of the six steps to render every word and phrase therein open-ended—especially where, as here, the patentee has narrowly defined the claim term it now seeks to have broadened."
Thus, the claimed step of [(3)] freezing said dripping alimentary composition into beads, could not be interepted to as "freezing the alimentary composition into both beads and irregular pellets."
At first glance, this case seems odd, but the underlying decision rests on a common sense approach to the claim language. The court essentially found that "freezing said dripping alimentary composition into beads" meant that all of the dripping alimentary composition was frozen into beads. If the step was performed properly there would not be any 'dripping alimentary compisition' remaining to form the irregular pellets.